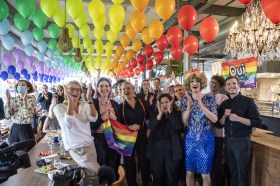 A legal reform to make marriage and joint adoption available to same-sex couples is poised to be approved by Swiss citizens.This content was published on September 26, 2021 – 13:35September 26, 2021 – 13:35Domhnall O'Sullivan
Voting ended at midday on Sunday on a law that would make Switzerland the 30th country worldwide – and one of the last in Western Europe – to extend full marital status to male-male and female-female couples.
Projections published on Sunday by the Gfs Bern research institute reckoned 'marriage for all' could be accepted by some 64% of voters, a number reflecting opinion polls in recent weeks. Final results will be available later this afternoon.External Content
Switzerland Updated on 26/09/2021, 13:54
| | | |
| --- | --- | --- |
| 62.5% | Voter majority required | 37.5% |
YES 738,613 443,348 NO
| | | |
| --- | --- | --- |
| 15.5 | Cantonal majority not required | 0 |
PercentageNumber of votesYes votes in %Not known1020304050607080901000Imprint
Olga Baranova, the campaign director of the "yes" side, told the Keystone-SDA news agency on Sunday she was surprised by the extent of the support, and said it was a signal to same-sex couples that the population sees them as equal – both as partners and as parents.
She added that the vote was not however simply a "symbolic" gesture, and that it was about concretely eliminating inequalities and endowing same-sex couples the same rights – including reproductive – as heterosexual pairs.
Since 2007, thanks to a civil partnership act, same-sex pairs in Switzerland have had some of the same rights as heterosexual couples. Under the new law however, they will also be able to jointly adopt children – at the moment they can only adopt children parented by one of them – and lesbian couples will be able to access sperm donors and medically assisted procreation.
Same-sex couples will also be able to apply for the same facilitated citizenship procedure available for foreign spouses of Swiss citizens.
More
More'Marriage for all is a huge step on the road to equality'This content was published on Aug 15, 2021For Olga Baranova, head of the "marriage for all" campaign, a "yes" vote would end the "baseless" discrimination.
Campaign
The change to the civil code, backed by government and most major political groups, was approved by parliament last December, but was challenged to a referendum by opponents who gathered the necessary 50,000 signatures.
On Sunday the campaign director of the "no" side, Anian Liebrand, told SRF television he had no regrets in having forced the topic to a public vote.
The opponents – who included the rightwing People's Party and some members of the Centre and Evangelical parties – raised "important questions", Liebrand said, in particular the question of sperm donation rules and the place of children.
More
More'Marriage for all' opponents hand in signatures for referendumThis content was published on Apr 12, 2021Swiss voters look set to have the last word on a same-sex marriage law after opponents handed in signatures demanding a referendum.
Throughout the campaign, opponents had argued that the right of lesbian couples to access sperm banks in Switzerland – where the name of the donor is only accessible to the child once he or she reaches 18 – effectively deprives children of the right to have a father.
They also raised the spectre – notably on gory and provocative campaign posters – of a boom in surrogacy procedures, especially abroad. The practice, which is illegal in Switzerland, is not mentioned in the new legislation.
Votes September 26, 2021
Articles in this story
source https://www.swissinfo.ch/eng/voters-have-last-word-on–marriage-for-all–bill/46969634