Hisham al-Hashimi backed action to tackle Iraq's powerful militias, despite knowing risks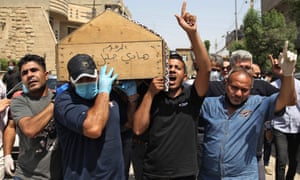 As Hisham al-Hashimi pulled up outside his Baghdad home on Monday night, a gunman strode purposefully towards the Iraqi official's white four-wheel drive, drew a pistol and fired four shots through the driver's window.
Each jolting flash was captured by security footage from a camera on Hashimi's roof. So was the hitman's escape on the back of a motorbike, and the helpless vigil of his three young children as their father's body was dragged on to the driveway.
In a city numbed by decades of brutality, violent deaths such as this have left an ever diminishing mark. But the brazen assassination of one of the country's most celebrated intellectuals has cast a pall over the Iraqi capital, leading many again to weigh the cost of speaking out and forcing a reckoning among leaders who had vowed that the troubled state had begun to prevail over the country's powerful militias.
Iraq's prime minister, Mustafa Kadhimi, with whom Hashimi had worked closely as national intelligence chief before the latter became leader earlier this year, vowed that there would be a transparent investigation into his murder, and pledged to name a Baghdad street after his most trusted adviser on Isis and jihadist thinking.
The relationship had consolidated over the past four months in government, when Kadhimi, as prime minister, had challenged Iranian-sponsored militia groups that have often dictated terms in Iraq. Two weeks ago, Kadhimi ordered the arrest of 14 members of one group, Kata'ib Hezbollah, who were suspected of firing rockets into Baghdad's Green Zone.
The arrest was a stark challenge to the group's standing and Hashimi had offered strong support through his prolific and widely read social media posts and appearances on Iraqi television. Hashimi knew the risks, outlining his fears to the Guardian in recent weeks and to a London-based friend, Ghaith al-Tamimi, to whom he wrote on Monday: "I've been sent death threats by Kata'ib Hezbollah. How should I deal with them, in your expertise?"
The response from al-Tamimi was "Can we speak?". Hashimi was shot dead hours later.