Source: BBC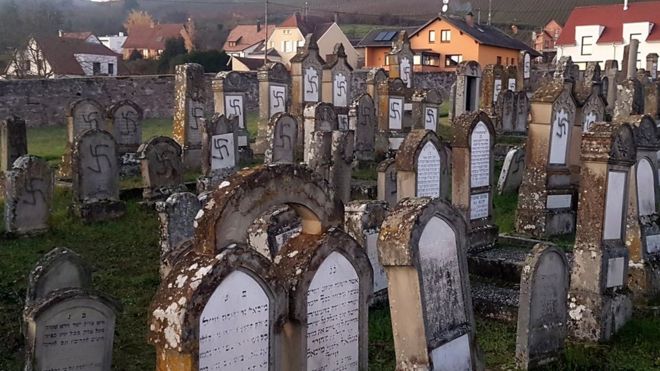 More than 100 graves at a Jewish cemetery in France have been defaced with Nazi swastikas in the latest in a wave of anti-Semitic attacks.
Vandals spray-painted the gravestones in the eastern town of Westhoffen, near Strasbourg, days after another incident in a nearby village.
In response, President Emmanuel Macron said France would fight anti-Semitism "until our dead can sleep in peace".
France is home to a Jewish community of about 550,000 – the biggest in Europe.
"Jews are and make France," Mr Macron said in a tweet on Tuesday evening.
"Those who attack them, even in their graves, are not worthy of the idea we have of France," he said.
France's north-eastern Alsace region, on the border with Germany, has been marked by a series of anti-Semitic acts in recent months.
Chief Rabbi Haïm Korsia said he was "outraged and horrified to learn of the desecration of yet another cemetery in Alsace".