Celebrating 30 years of Bait-ul-Huda Mosque, Sydney
at
Bait-Ul-Huda Mosque, Sydney
45 Hollinsworth Road, Marsden Park, NSW 2765, Australia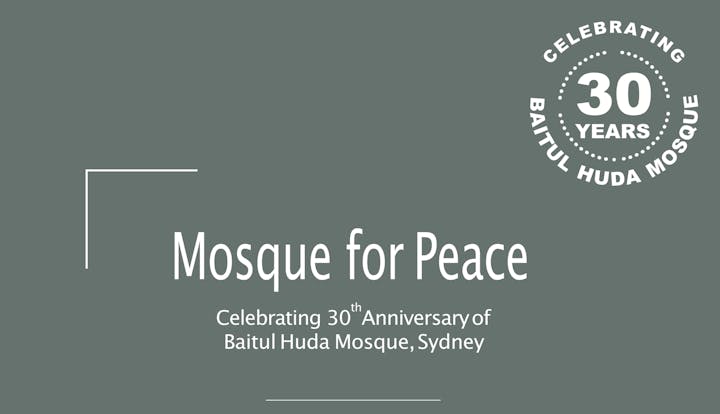 Open event – All Welcome!
Ahmadiyya Muslim Community Australia invites you to join us in celebrating the 30th anniversary of its first ever Mosque in Australia – Baitul Huda (House of Guidance)
The event is aimed at raising awareness on how mosques play an important role in building peace and establishing strong relationships in the broader community.
We welcome you to be part of this important event at a time when nations, communities and individuals could play key roles in building peace.
A delicious complimentary dinner will be served to all guests.
Your presence, even if only for a brief time, will be highly appreciated by our community and please feel free to invite family and friends who may be interested in attending. For catering purposes, kindly register for a free ticket by Wednesday 20th of November 2019.
Event Contacts
E-mail: rsvp@ahmadiyya.org.au
Mirza 0435 180 498
Shoaib 0431 683 902
Mubasher 0431 772 288
Free parking available on-site