BBC.COM
Image copyright

IBO/SIPA/REX/SHUTTERSTOCK
Image caption
France's most-wanted fugitive Rédoine Faïd was tracked down by police through phone-taps and was discovered using a burqa as a disguise, prosecutors say.https://www.bbc.com/news/world-europe-45732226
Faïd, 46, was detained on Wednesday in the town where he grew up north of Paris. Six others are being held.
He broke out of jail on 1 July, escaping in a helicopter flown by a flying instructor who had been taken hostage.
After three months on the run Faïd was tracked down to a block of flats.
He was sprung out of prison in Réau, south-east of Paris, by three heavily armed men. He had been serving a 25-year sentence for masterminding a botched robbery in which a policewoman was killed in 2010.
He was recaptured shortly after 04:00 on Wednesday in the town of Creil. Three other people in the flat were detained and three more arrested elsewhere.
How was gangster caught?
French prosecutor François Molins revealed that police had been monitoring mobile phones used by the gang that took part in the jailbreak and had tracked down a young woman in Creil, where Faïd grew up.
Last weekend, the woman "let into her car a person dressed in a burqa whose figure suggested he might be a man".
Late on Tuesday night, that person then got out of the car and entered the young woman's flat, followed shortly afterwards by another person also in a burqa. Police immediately suspected the pair in the burqas were Rédoine Faïd and his brother Rachid.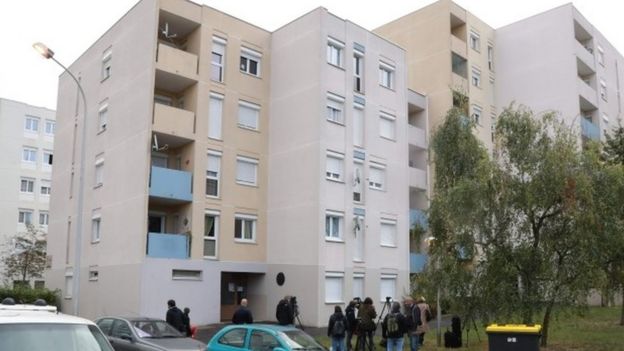 At 04:20 (02:20 GMT) on Wednesday, dozens of France's BRI police stormed the flat and arrested the two brothers and two others, including a nephew and the 28-year-old flat owner. Another nephew and two other suspects were detained elsewhere.
Pictures have emerged of the fugitive sitting dazed on a bed, surrounded by police and wearing what appears to be a nightshirt. An Uzi sub-machine gun lay on the floor.

Who is Rédoine Faïd?
A notorious criminal who grew up in the tower blocks near Paris in the 1970s and 80s, Faïd became something of a celebrity in France in recent years, despite the violence of his crimes.
In the 1990s he ran a gang involved in armed robbery and extortion, and said Hollywood movies, such as the Al Pacino thriller Scarface, inspired his lifestyle and some of his schemes.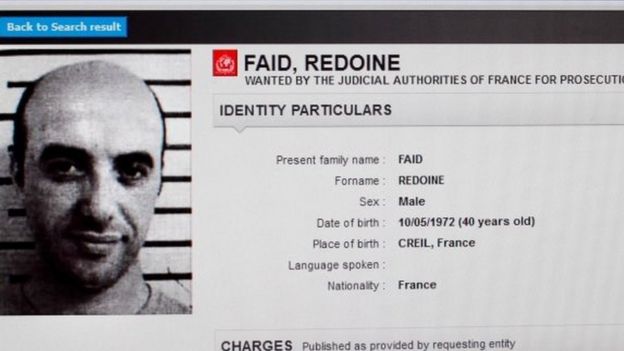 During a 1997 attack on a security van, he and his accomplices used ice-hockey goalkeeper masks, mimicking Robert de Niro's gang in the film Heat.
He later said he had watched that movie "hundreds of times" on DVD and once told its director, Michael Mann, at a Paris film festival: "You were my technical adviser."
His fame was helped by a 2009 book outlining his younger days on the streets of Paris and his descent into the life of a professional criminal.
That earned him the nickname "L'Écrivain" – or "the writer" – among French police.
After the botched raid on a security van carrying cash in 2010 in which a policewoman died, he was back in jail but escaped in 2013 by seizing four prison guards and blowing jail doors off with dynamite. That time he spent six weeks on the run.