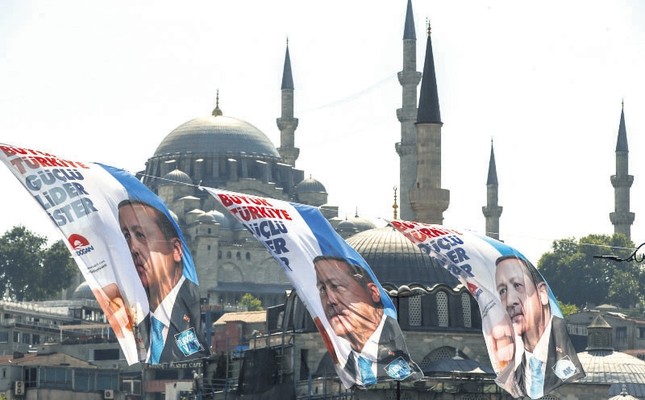 Election posters of President Recep Tayyip Erdoğan and his ruling Justice and Development Party (AK Party) decorate a street in İstanbul, June 6.
The opposition has finally accepted the obvious fact that Turkey is a Muslim-majority country and has wasted no time taking advantage of this 'new' insight in their attempts to win over conservative voters and the Western media
For years, Western media added the qualifier "Islamist" in front of President Recep Tayyip Erdoğan's Justice and Development Party (AK Party) when reporting on Turkey. In Turkey, Islamism, as an intellectual movement, is not contextually linked to violence, unlike in the West. Moreover, the AK Party never described itself as an Islamist party.
Still, Western media has spent the last decade trying to portray the AK Party as a movement that was gradually transforming into an organization with an Islamist agenda like Hamas. They preferred to view the Turkish public's simple acts of worship and public displays of religious devotion as an enormous menace pushing the country away from secularism, toward the Islamization of Turkey and the end of state laicism.
It took opposition presidential candidates Muharrem İnce and Meral Akşener's public expression of religious devotion to attract support from conservatives for many in the Western media to finally realize that Turkey is a Muslim-majority country.
İnce talks about his regular attendance of Friday prayers, namaz and his umrah. Akşener holds a scarf in her hand at every campaign rally, making symbolic statements that emphasize her religious devotion. However, such behavior is not at all abnormal as Turkey is a Muslim-majority country.
What was abnormal was the artificial secularist boundaries imposed on Turkey's political discourse that forced the majority to hide their religious beliefs to begin with. For decades, politicians who performed their religious absolutions were portrayed as zealots exploiting religion.
more: