Source: The Guardian
BY Kate Lamb
State court in Indonesian capital upholds decision last year to outlaw Islamic group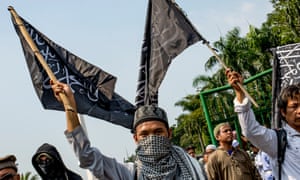 A legal attempt by the Islamic group Hizb ut-Tahrir to overturn a decision that saw it outlawed in the world's largest Muslim-majority country has been rejected by an Indonesian court.
Reading the verdict at Jakarta state administrative court, the head judge, Tri Cahya Indra Permana, said the lawsuit was "rejected in full".
Hizb ut-Tahrir was banned in Indonesia on the basis of a 2017 presidential decree that gives the government powers to disband groups deemed a threat to national unity.
The ruling on Monday upheld that decision, with the judicial panel stating that the government had acted according to procedure and Hizb ut-Tahrir runs counter to Indonesia's state ideology.