Source: The Guardian
From apps that remind you to confess or help Muslims find halal food, to cashless church donations, religious practice is being inextricably linked to tech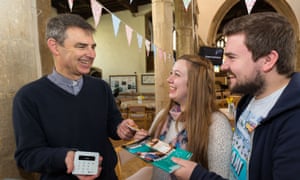 As part of an effort to reduce noise in Ghana's capital, Accra, the environment minister has suggested that the Muslim call to prayer, normally broadcast over loudspeakers across the city, should instead be sent out on WhatsApp. The notion has proved immensely unpopular – not least because it equates the call to prayer with noise pollution. But it also highlights religion's growing, if sometimes uneasy, reliance on tech.
Contactless collection Catholic and Protestant churches in the UK have begun using contactless card readers for donations and other payments, hoping to make life easier for parishioners who may not be carrying cash. A contactless collection plate is being trialled by the Church of England, but it is being held up because it is feared the technology might slow things down.
The confession app Confession (version 2.1) walks sinners through the business of confession, pings you push notifications when it's time for your next shriving and includes a handy sin checklist in case you have forgotten what you've done wrong. What it doesn't do is offer absolution. You still need a priest for that.