Source: The Guardian
By Uki Goñi in Buenos Aires
Salil Shetty, Amnesty International's secretary general, urges Argentina and others to reform draconian legislation and says human rights have deteriorated across region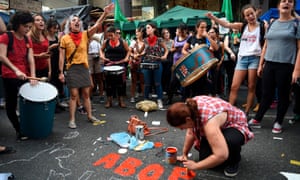 Latin America's draconian abortion policies have resulted in the needless deaths of thousands of women, said Amnesty International's secretary general, Salil Shetty, as he called for a decisive push for legalization of the procedure across the region.
"The criminalization of abortion is an extreme form of violence against women. It doesn't reduce abortions – it just makes them unsafe," Shetty told the Guardian in Buenos Aires after a meeting with Argentina's President Mauricio Macri.
In a wide-ranging interview, Shetty also warned that political polarization, economic decline and a growing disenchantment with democracy has led to a crisis of human rights across the region.
"Latin America was always seen as more advanced in the area of human rights compared to Asia or Africa, but everything has gone backwards very quickly now," he said.