The government needs to rethink its approach if there is to be any hope of a successful strategy for Muslim communities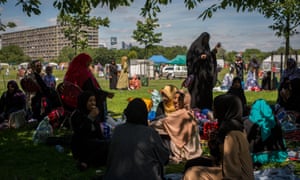 More than 10 years ago, David Cameron, then leader of the opposition, declared that integration was "a two-way street". As head of a detoxified Conservative party, he affirmed that we could aspire to be a more united country if we recognised our diversity.
Within the space of a decade, that attitude dissipated. It reflected the success of a core group of ideologues keen to unleash a phoney culture war that scapegoated Muslims and cast doubt on this country's diversity. Once in office, Cameron declared that multiculturalism allowed people to lead separate lives, and therefore led to extremism.
Just before he left office, the former prime minister charged Dame Louise Casey with investigating the state of integration in our country. For those looking to attack Muslims and "failed multiculturalism", she did not fail to deliver. Casey put a "moral onus on ethnic minorities for the supposed failures of integration", proclaimed integration was "not a two-way street" and publicly used her platform to wrongly conflate criminal acts with sharia law. This all builds up a dangerous narrative in the public mind.
Consider, for instance, the laudable objective of reducing the number of people who cannot speak English, and therefore struggle to participate in society. This week, Casey took to the airwaves with the eye-catching ultimatum that the government should set a deadline for everyone to speak English. Rather than examine the issue as it affects all sections of British society, last year she suggested that this was a problem in Bangladeshi and Pakistani communities, failing to acknowledge that the greatest number of those unable to speak English well, are "other white".
Perhaps it would be good to recognise why people choose to live near someone familiar to them, as expat Brits do in Spain, and why others may opt to live in segregated communities for complex reasons, such as housing policy or "white flight", rather than focusing primarily on immigrant communities. Policies based on such an approach would acknowledge that segregation among Muslims has actually been falling, and that a large and growing proportion (89% in 2015-16) thought their local area was "a place where people from different backgrounds get on well".
MORE:
https://www.theguardian.com/commentisfree/2018/mar/15/muslims-integration-two-way-street-communities