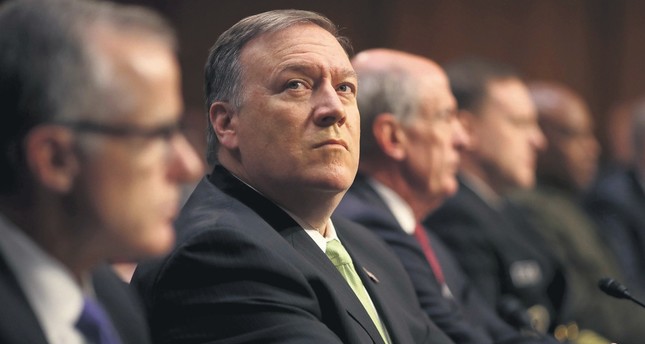 Mike Pompeo, who has been recently declared to be the new U.S. Secretary of State, is seen during the senate intelligence committee as he was the head of CIA, Capitol Hall, Washington, May 11.
With Pompeo taking charge as the new secretary of state, U.S. foreign policy is likely to be more hawkish, which could generate more chaos around the world
In a 2016 book "How Everything Became War and the Military Became Everything: Tales from Pentagon," while mentioning the increased blurring of the border between war and peace, Rosa Brooks also wrote about the U.S.'s increasing use of military instruments in different foreign policy areas and the risks of this emerging habit. She writes: "Americans increasingly treat the military as an all-purpose tool for fixing anything that happens to be broken." She criticized the fact that for the large set of issues, including hurricanes and earthquakes, the U.S. administration has kept using military resources. Referring to the saying, if your only tool is hammer, every problem starts to look like a nail, she argues: "If your only functioning government institution is the military, everything looks like a war – and when everything looks like a war, everything looks like a military mission." In the context of the recent debates regarding the increasing weight of the military in the U.S. administration and its influence on foreign and security matters, it is important to discuss how this militarization can generate influence over foreign policy in the coming months. This ongoing debate has once again been revitalized by the ouster of Secretary of State Rex Tillerson and replacement by CIA Director Mike Pompeo at the State Department.
Trump firing Tillerson did not surprise anybody, but the way it took place shocked many observers of U.S. politics. Tillerson was the first secretary of state in decades fired by the president and process itself was also the first cabinet-level ousting over Twitter. After Trump's tweet, things got worse. A State Department statement revealed that the president had not spoken to Tillerson in advance, that Tillerson did not know the reason for his firing and that he previously did not intend to leave his post. Tillerson's dramatic statement further showed that Trump called him after posting the tweet. There are so many things that can be said about this process and its ramifications in Washington and around the world.
more:   https://www.dailysabah.com/columns/kilic-bugra-kanat/2018/03/17/rule-by-generals-in-washington