Afghan special forces kill two of the four attackers and surround building as night falls
Several people were killed and at least six wounded when four gunmen attacked Kabul's famous Intercontinental hotel on Saturday.
The gang reportedly also took hostages from among staff and guests, and set the building ablaze.
Interior ministry spokesman Nasrat Rahim said people had died and others had been injured but could not give details of casualty numbers.
At least two of the four attackers were killed as Afghan special forces engaged the gunmen in the hotel, it was reported.
The soldiers had cleared the first floor of the six-storey building and were searching other floors for the raiders, who appeared to have a large supply of hand grenades.
Hours after the attack began, firing appeared to ease as security forces settled in, waiting for dawn.
The militants, including at least one suicide bomber, launched the attack at about 9pm local time on Saturday, security officials said.
A witness said some foreigners were among the hotel guests but it was not clear what their nationalities were.
The hotel had been due to host an information technology conference on Sunday and more than 100 IT managers and engineers were onsite when the attack took place, Ahmad Waheed, an official at the telecommunications ministry, said.
The gunmen had entered the hotel through a kitchen door to evade heavy security at the front, local news reports said.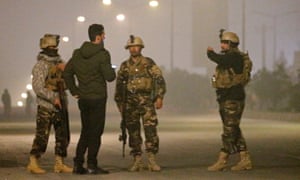 "We are hiding in our rooms – I beg the security forces to rescue us as soon as possible before they reach and kill us," one guest told AFP at the start of the attack. "I can hear gunfire from somewhere near the first floor."
Two guests at the hotel confirmed that the militants attacked when they were eating, and that people in the dining room had attempted to flee. Ahsan Ali told the Observer: "People ran to their rooms and locked themselves in – it was a dreadful scene."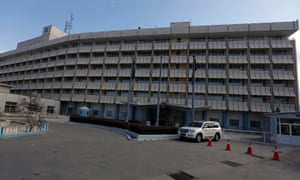 MORE:  https://www.theguardian.com/world/2018/jan/20/guests-flee-as-gunmen-open-fire-in-luxury-hotel-in-kabul