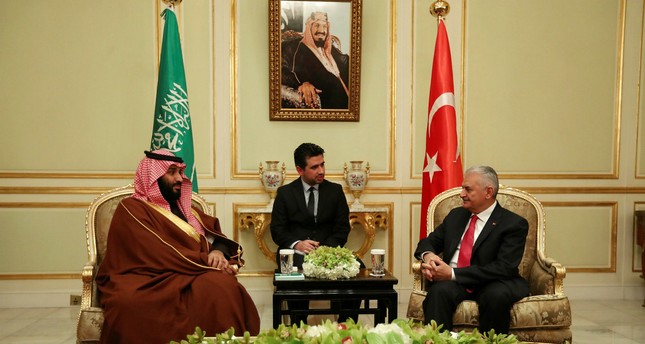 Crown Prince Salman (L) and PM Yıldırım
Turkey and Saudi Arabia are two key countries for ensuring permanent peace and stability in the Middle East, Prime Minister Binali Yıldırım said late Wednesday during an official visit to the Kingdom.
"It is necessary for both Saudi Arabia and Turkey to work jointly, not only for the benefits of two countries individually but also for regional and global peace," Yıldırım added.
"We have discussed the ways to improve our bilateral trade and cooperation in the defense industry. I can say that we share almost the same view in terms of ways of solution for the matters concerning us and the region," he concluded.
Crown Prince of Saudi Arabia, Muhammad Bin Salman will visit Turkey soon, Yıldırım also announced after a meeting with the prince.
Yıldırım arrived in Saudi Arabia earlier on the same day. The prime minister first met the Saudi King Salman Bin Abdulaziz.
Yıldırım and Salman agreed on the necessity of taking a common stance to protect the Palestinians' rights, according to prime ministerial sources.
Riyadh, a close U.S. ally, and NATO member Ankara have both slammed U.S. President Donald Trump's decision to upend decades of careful Washington policy, recognizing Jerusalem as the capital of Israel.
In an hour-long closed-door meeting, the two leaders discussed the importance of Jerusalem's status, the sources said on conditions of anonymity.
They also agreed that the Muslim countries should take a common stance on the protection of the rights of the Palestinians. They said the U.N. General Assembly's decision to reject the U.S. move on Jerusalem has sent a strong message.
The meeting also discussed bilateral relations as well as the deep-rooted historical and religious ties between Turkey and Saudi Arabia.
The state-controlled Saudi Press Agency (SPA) said King Salman received Prime Minister Binali Yıldirım in Riyadh and discussed "means of boosting bilateral ties and developments in the region," without providing details.