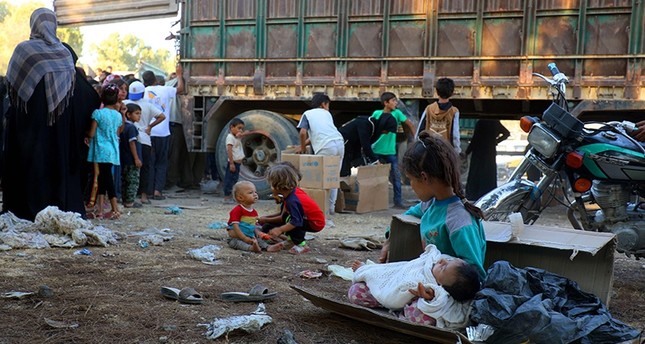 A picture taken on August 4, 2017 shows displaced Syrian children, who fled from Daesh's Syrian stronghold of Raqqa, receiving humanitarian aid delivered by UNICEF at a temporary camp (AFP Photo)
Since his family fled civil war in Syria five years ago, 15-year-old Ali al-Sbehi hasn't set foot in a school.
Instead, he has put in 12-hour shifts in a supermarket, a fast food stand and now a coffee shop, enduring abuse from employers, back-breaking work and low pay because he is the sole breadwinner for his family of eight.
"I have no future," said the lanky teen with narrow shoulders, offering a sober assessment of his prospects.
Ali is among more than half a million Syrian refugee children of school age — or one-third of the total — who are not in school or informal education in overburdened regional host countries Jordan, Lebanon, Turkey, Egypt and Iraq.
They should all have been enrolled by now under a pledge made 18 months ago by donor countries and international organizations at a Syria aid conference in London.
At the time, donors promised hundreds of millions of dollars to meet the education target, as part of a shift from emergency aid to longer-term development to cope with the fallout from Syria's civil war, now in its seventh year.
However, Syria aid has been plagued by persistent funding shortfalls, as donors face competing global crises. A U.N.-led $8 billion aid appeal for 2017 — $3.4 billion for Syria and $4.6 billion for the host countries — was only 25 percent funded by July, according to U.N. figures.
"If we were fully funded … more children would be back in school," said Juliette Touma, regional spokeswoman for UNICEF, the U.N. child welfare agency.
Money could alleviate both the direct and indirect causes of children not getting an education. Deepening poverty among refugees drives more boys into menial work and more girls into early marriage. Local schools are overcrowded. Parents often lack money for transportation to and from school, or fear for their children's safety.
Progress has been made and many of the donors have stepped up, Touma said. The out-of-school rate in regional host countries dropped from 45 percent to 34 percent between December 2015 and December 2016.
READ MORE HERE:   https://www.dailysabah.com/syrian-crisis/2017/08/14/over-500000-syrian-refugee-kids-not-receiving-education-un-says