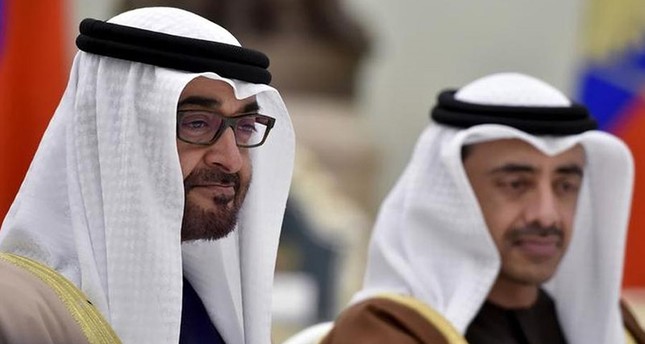 Sheikh Mohammed bin Zayed al-Nahyan (L), Crown Prince of Abu Dhabi (Reuters File Photo)
After President Erdoğan said 'Turkey knew which Gulf countries were happy with the coup attempt on the night of July 15, some eyes are turned to the UAE, which allegedly funneled money to coup plotters before July 15 and still continues spending to topple the president and the democratically elected government in Turkey
The United Arab Emirates (UAE) spent $3 billion to topple President Recep Tayyip Erdoğan and the democratically elected government in Turkey, a columnist in the Turkish media claimed yesterday.
Mehmet Acet, a columnist for Yeni Şafak daily, said Foreign Minister Mevlüt Çavuşoğlu hinted at a Muslim country "spending $3 billion to topple Erdoğan and the government in Turkey," while lending support to putschists in the July 15 coup attempt, as well.
According to Acet, Çavuşoğlu said: "We know that a country provided $3 billion in financial support for the coup attempt in Turkey and exerted efforts to topple the government in illegal ways. On top of that, it is a Muslim country."
The columnist claimed that the Muslim country was the UAE, claiming the funneled money was to topple Erdoğan and the Turkish government.
Speaking to Daily Sabah regarding the claim, Acet  said:    more…
more:   https://www.dailysabah.com/politics/2017/06/13/uae-allegedly-funneled-3b-to-topple-erdogan-turkish-government