Source: The  Guardian
By Helen Pidd North of England editor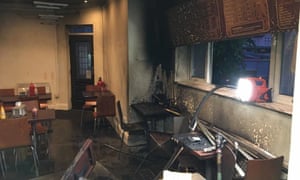 Police are investigating two arson attacks on kosher restaurants in Manchester, as a Jewish charity says antisemitic hate crime is on the rise in the UK.
Detectives have released CCTV images of the alleged arsonists, who attacked two restaurants in Prestwich, a Jewish area of north Manchester, earlier this month.
Ta'am restaurant on Bury New Road was firebombed shortly before midnight on 2 June when two men approached and threw a milk carton filled with petrol and a lit rag at the premises.
The makeshift molotov cocktail failed to ignite before one of the offenders threw a large stone at the front window, smashing it in the process.