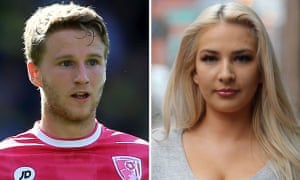 A footballer and a model have won their court battle to have their humanist wedding recognised as legal in a ruling that effectively changes the law inNorthern Ireland.
Eunan O'Kane, Leeds United and Republic of Ireland midfielder, and model Laura Lacole can now press ahead with their ceremony in less than two weeks.
The couple, both humanists, took their case to Belfast high court in May, arguing that they were being denied the rights given to religious couples.
They told the court they wanted a ceremony that reflected their beliefs, but the only legal options available to them were a religious or civil service.
In a ruling delivered on Friday, the court permitted the couple a legally valid humanist wedding ceremony.
more:   https://www.theguardian.com/uk-news/2017/jun/09/model-and-leeds-united-footballer-win-fight-for-humanist-wedding
In Scotland, humanist weddings have been legal since 2005. Eighty such weddings were conducted that year, but the number rose to almost 4,300 in a decade, exceeding those conducted by the Church of Scotland.