Source: The Guardian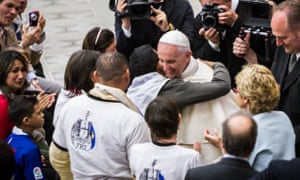 BY Dara Mohammadi in Vatican City
It was with the pomp and intrigue of a Dan Brown novel that earlier this month Pope Francis made his way into the Aula Paolo VI audience hall, a room the size of an aeroplane hangar in Vatican City. Flanked by the flamboyant Swiss Guard and dark-suited men muttering into earpieces, he headed for an oversized chair on a stage in front of nearly 2,000 people. Many applauded, most gawped in disbelief.
The pope was there to do something no other world leader has done before. He was meeting people with Huntington's disease, a rare and incurable neurological disorder that has long been shrouded in shame and discrimination. It's a genetic disease that runs in families. It causes involuntary jerky movements and can make people depressed or aggressive, symptoms that can leave them socially isolated, thanks in part to a historic misunderstanding.
"In centuries gone by, people thought it must be some sort of curse, or witchcraft, or that someone had offended the gods," says Charles Sabine, a journalist who co-organised the event – and is a gene carrier for the condition. "In the early 20th century the eugenics movement in America suggested sterilising people with the disease. The Nazis took it a step further and put them in gas chambers. The culmination of all this, not surprisingly, especially in more remote parts of the world, is a massive stigma attached to the disease that means many people who are affected by it do not admit it."
The event was part of a campaign called HDdennomore, pronounced "Hidden no more" (HD is an acronym for the disease), which aims to relieve families of this stigma, particularly those in poor communities in South America where the condition is most common. The Observer was invited along after we published a feature highlighting the plight of people with Huntington's living in Colombia and Venezuela. No Pope, says Sabine, had so much as uttered the words Huntington's disease before. Addressing the crowd on 18 May, Pope Francis spoke warmly, telling people that they are all precious in the eyes of the church. He then spent nearly an hour with about 150 patients, their families and their carers, greeting and hugging them one by one.