Source: The Guardian
Asa Merritt in Midland, Texas
The ban is already affecting hiring decisions, despite an oil industry desperate for specialists like ones from majority-Muslim nations to work in Texas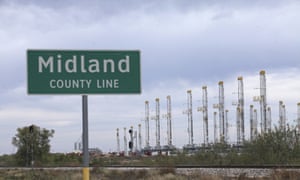 Chemical, electrical and production engineers are among those who gather every Friday for a service at the Muslim Association of West Texas, a small mosque in Midland, Texas.
According to Farook Rafeek, who regularly attends these services, more than half of the congregation works in the oil industry.
And Trump's new immigration ban may keep the mosque from growing: despite an oil industry desperate for specialists like the ones who moved across the world from majority-Muslim nations to work in Texas, fewer are on the way.
"The Trump administration is already having an impact on hiring decisions," said George Stein, managing director at Commodity Talent, a recruiting agency for oil companies. "Two of our international clients are considering basing foreign hires outside of the United States because of difficulties arising from the ban."