ACLU and lawyers for two Iraqis held at New York's JFK airport celebrate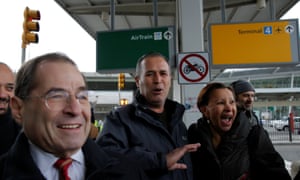 A federal judge has granted a stay on deportations for people who arrived in the US with valid visas but were detained on entry, following President Donald Trump's executive order to halt travel from seven Muslim-majority countries.
The stay is only a partial block to the broader executive order, with the judge stopping short of a broader ruling on its constitutionality. Nevertheless, it was an early, significant blow to the new administration.
Less than 24 hours after two Iraqi men were detained at John F Kennedy airport in New York on Saturday morning, Judge Ann Donnelly of the federal district court in Brooklyn ordered an emergency stay, blocking the deportation of any individual currently being held in airports across the United States.
"I think the government hasn't had a full chance to think about this," Donnelly told a packed courtroom.
The American Civil Liberties Union (ACLU) and other groups filed the lawsuit earlier on Saturday, challenging the detention of the two Iraqi men, with two more plaintiffs were later added to the suit, who were both valid US green-card holders. But the judge's ruling extended to all individuals facing similar situations across the United States.
The two plaintiffs included two Iraqi refugees who had spent hours detained at JFK: Hameed Khalid Darweesh, who had worked for the US government for a decade, and Haider Sameer Abdulkhaleq Alshawi, who arrived in the country to join his wife, a US contractor.
Donnelly, who was nominated by former president Barack Obama, ruled that the deportations could cause the plaintiffs "irreparable harm" by returning them to countries where they had been threatened. She also noted that the plaintiffs included visa-holders who had already been approved for entry to the US, and who, only two days before, would have been let into the country without incident.
"Obviously, we're extremely pleased," the head of the ACLU, Anthony Romero, told the Guardian. The judge, he said, "obviously gets the importance of the executive order and its impact on hundreds if not thousands of immigrants and refugees."
The stay, which applies nationwide, will last at least until a hearingscheduled for 21 February, the judge said, and includes people on valid visas of all kinds and green-card holders.
However, it would only impact those who were "on American soil" – ie those who had been mid-flight or had landed while the executive order was being signed by the president, Romero said.
He estimated that there were at least 100-200 people currently being held in airports across the country, however he said the number could be higher. Asked by the judge to confirm the number, government lawyers were unable to respond with confidence.
Donnelly ordered the government to provide a list of all people currently being held in violation of the order at US airports or in flights, to protests from the government lawyers.
MORE:   https://www.theguardian.com/us-news/2017/jan/28/federal-judge-stays-deportations-trump-muslim-executive-order