DAILY SABAH WITH ANADOLU AGENCY
ISTANBUL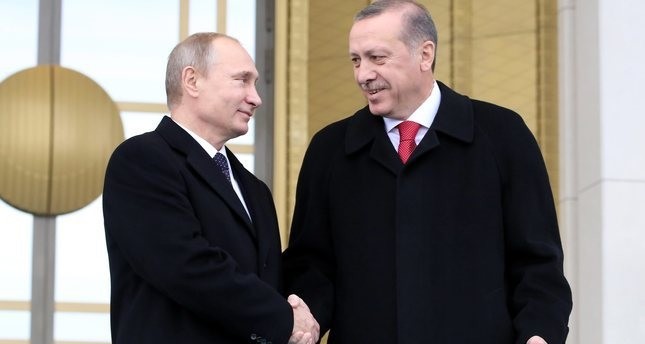 Russian President Vladimir Putin said in a meeting with Prime Minister Binali Yıldırım on Tuesday that Russia is grateful to President Recep Tayyip Erdoğan for the Turkish Stream agreement.
"We are grateful to President Erdoğan for signing the Turkish Stream agreement," he said.
On October 10, Turkey and Russia signed an inter-governmental agreement on realizing the construction of the planned Turkish Stream gas pipeline to pump Russian gas under Turkish waters in the Black Sea towards Europe.
The agreement was signed by Russian Energy Minister Alexander Novak and Turkish counterpart Berat Albayrak, in the presence of Russian President Vladimir Putin and President Recep Tayyip Erdoğan after their talks in Istanbul.
The project, announced by Putin during a December 2014 visit to Turkey, will carry gas from Russia under the Black Sea to Turkish Thrace. One line, with a 15.75 billion cubic meters capacity, is expected to supply the Turkish market with a second carrying gas to Europe.
READ MORE HERE:
http://www.dailysabah.com/diplomacy/2016/12/06/putin-says-grateful-to-erdogan-for-turkish-stream-agreement