By Michael Sebastian, Oct 13, 2016
Donald Trump has insulted women for decades.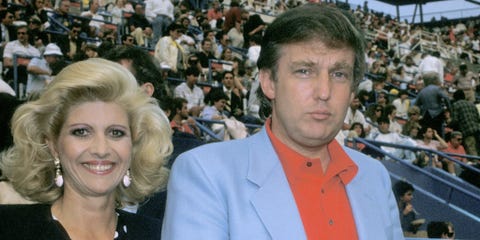 Trump reminded us of this when he unleashed a war of words on Fox News host Megyn Kelly, questioning her professionalism and suggesting she treated him unfairly at a Republican debate last year because she was menstruating. (Trump later denied that suggestion.)
Kelly had asked Trump about his stance on women, saying, "You've called women you don't like fat pigs, dogs, slobs, and disgusting animals." Trump tried to cut her off, insisting he's only said those things about Rosie O'Donnell.
Kelly and Trump have "agreed to disagree," according to Kelly. And Trump told Face the Nationthat he'd be "phenomenal to women."
But Kelly was right to question him on his stance on the women. The leading Republican candidate has repeatedly insulted women. Here are 20 instances:
He insulted pretty much all women.In a May 1991 Esquiremagazine profile, Trump had this to say about his recent bad press: "You know, it really doesn't matter what they write as long as you've got a young and beautiful piece of ass. But she's got to be young and beautiful."
He insulted a breastfeeding mother. "You're disgusting." Trump hurled this barb at a female lawyer, who, during a deposition involving Trump, asked for a medical break to pump breast milk for her 3-month-old daughter.
He insulted Kristen Stewart.
He insulted Megyn Kelly — and, once again, pretty much all women. When talking to CNN's Don Lemon on Friday, he said this about Kelly: "You could see there was blood coming out of her eyes, blood coming out of her wherever."
He insulted Arianna Huffington.
DONALD TRUMP TWITTER
He insulted New York Timescolumnist Gail Collins. Trump sent her one of her columns, in which she called him a "financially embattled thousandaire," with her picture circled and a note saying, "The Face of a Dog."
He insulted Sarah Jessica Parker.
ADVERTISEMENT – CONTINUE READING BELOW
He insulted Brande Roderick, a contestant on The Apprentice."It must be a pretty picture," he said to her. "You dropping to your knees."
He insulted Bette Midler.
DONALD TRUMP TWITTER
And yes, he insulted Rosie O'Donnell.
DONALD TRUMP TWITTER
He insulted moms who expect their husbands to change diapers. In a 2005 radio interview, Trump said he didn't change diapers because it's the wife's job. In fact, he said he wouldn't marry a woman who expected this of him. "There's a lot of women out there that demand that the husband act like the wife and you know there's a lot of husbands that listen to that," Trump said. "So you know, they go for it."
He insulted all Muslim women. When Donald Trump went after Ghazala Khan, mother of fallen Iraq War veteran Humayun Khan, he invoked gross stereotypes about Muslim women. In July, Ghazala Khan stood next to her husband, Khizr, as he delivered a passionate speech at the DNC excoriating Trump. Noting that Ghazala did not speak, Trump toldABC News' George Stephanopoulos,"Look at his wife, she was standing there. She had nothing to say. She probably, maybe she wasn't allowed to have anything to say. You tell me." Ghazala Khan then spoke out in a powerful Washington Post op-ed saying she chose not to speak because she was too emotional.
He accused Hillary Clinton of playing the "woman card." "Frankly, if Hillary Clinton were a man, I don't think she'd get 5 percent of the vote," Trump said in April. "The only thing she's got going is the women's card." Here's a reminder that Hillary Clinton is a former secretary of state, U.S. senator, and first lady, making her one of the most qualified presidential candidates in U.S. history. And considering America has experienced 227 years of male presidents and zero years of female presidents, one might reconsider how much Trump is benefitting from the "man card." The absurd comment was a boon to the Clinton campaign, which drafted up actual "woman cards" for Clinton supporters.
ADVERTISEMENT – CONTINUE READING BELOW
He insulted victims of sexual harassment.Both men and women can be victims of sexual harassment in the workplace, though women make up nearly 80 percentof the victims. And Trump believes that if a woman is harassed, she — not the harasser — should leave the workplace. In the wake of multiple sexual harassment allegations against former Fox head Roger Ailes — whom Trump called a "very, very good person" — Trump opined on what his daughter Ivanka should do if sexually harassed. "I would like to think she would find another career or find another company if that was the case," he said to USA Today columnist Kirsten Powers. Just a few weeks later, Ailes, since ousted from Fox, is advising the Trump campaign ahead of the presidential debates.
He insulted women seeking abortions. More precisely, Trump believes that women who seek abortions should receive "some form of punishment" if abortions become banned. Because defunding Planned Parenthood, enforcing hundreds of anti-abortion restrictions across the country in recent years, and enduring increasing harassment at clinics isn't punishment enough. Trump later walked back these comments, sort of, saying that instead, doctors should be punishedfor providing abortions if the procedure were made illegal.
MORE FROM #COSMOVOTES
Why I Became a Clinton Campaign Intern
Teen Beauty Queens Say Trump Invaded Privacy
Millennial Women Protest Trump at RNC Headquarters
He insulted NBC reporter Katy Tur.Trump has taunted NBC reporter Katy Tur relentlessly during the 2016 election cycle, calling her "Little Katy" and a "Third-Rate reporter," even tweeting that she "should be fired." At one rally in South Carolina, his attacks against made his supporters so belligerent that Secret Service had to escort Turback to her car.
He attacked reporter Michelle Fields's character.When former Breitbart reporter Michelle Fields alleged that former Trump campaign manager Corey Lewandowski assaulted her at a Trump event, Trump's campaign assassinated Fields's character, implying that Fields has exhibited a "a larger pattern of exaggerating incidents." Trump himself called Fields "terrible" in an interview with Fox & Friends'sGeraldo Rivera and even suggested that she assaulted him. "Maybe I should file a report, she was grabbing me," he said.
He insulted Heidi Cruz.After an anti-Trump Super PAC released an ad shaming Melania Trump for posing nude in British GQin 2000, Trump went after opponent Texas Sen. Ted Cruz's wife, Heidi. First, he threatened to "spill the beans" on Heidi:
Then he tweeted this awful meme:
Cruz maintained that his campaign had nothing to do with the ad and thankfully did not retaliate with any sexist memes of his own.
He insulted Elizabeth Warren.Trump has gone after Massachusetts Sen. Elizabeth Warren time and time again, calling her "goofy," "a fraud," and, like Clinton, someone who is "playing the woman's card." Unfortunately for Trump, Warren can tweet just as furiously and often dishes it right back.
ADVERTISEMENT – CONTINUE READING BELOW
He insulted Supreme Court Justice Ruth Bader Ginsburg.Trump called on feminist rock star Ruth Bader Ginsburg to resign after she criticized him in the press. He has called her an "incompetent judge" and said "her mind is shot." Ginsburg, who calledTrump a "faker" and said, "I can't imagine what the country would be — with Donald Trump as our president," later said her comments were "ill advised."
He insulted Morning Joeco-host Mika Brzezinski. Trump launched a Twitter attack against Morning Joe's Mika Brzezinski for what he believes was unfair coverage by her and co-host Joe Scarborough. Trump called Brzezinski "neurotic" (an insult he apparently only uses for women):
MORE FROM #COSMOVOTES
What Trump Really Means By "Locker Room Talk"
Woman Wears "Grab My P***y" Shirt at a Trump Rally
"50 Shades of Grey" Is Now Part of the Election
He then implied that the two anchors are dating, and called Brzezinski "insecure."
He said Rosie O'Donnell deserved the "tough things" he said to her.Trump has been insulting to O'Donnell for years, but at the first presidential debate, he reiterated that those insults were deserved, based on how "vicious" she's been to him.
He body-shamed Kim Kardashianwhen she was pregnant.
ADVERTISEMENT – CONTINUE READING BELOW
In a tape leaked from 2005, he bragged about sexually assaulting women.
In an Entertainment Tonight video from 1992, Trump is heard objectifying a 10-year-old girl. After talking to a girl who is going up an escalator, Trump says,"I am going to be dating her in ten years. Can you believe it?"
MORE FROM #COSMOVOTES
Ivanka Trump 'Liked' a 'Piece of Ass' Tweet
Clinton Besting Trump Is So Satisfying
Amber Shares Assault Story After Trump's Mic Leak
After PEOPLE reporter Natasha Stoynoff alleged that Trump assaulted her 12 years ago, Trump began lashing out at her and implied that she was unattractive:
ICYMI: Here's Trump, the GOP presidential nominee, suggesting the People reporter wasn't hot enough for him to be inappropriate with:
 590590 likesThis post has been updated since publication.
27. He fat-shamed former Miss Universe Alicia Machado. During the first presidential debate, Hillary Clinton called out Trump for his history of misogynistic comments. In particular, she called attention to Trump body-shaming Machado, whom he has called "Miss Piggy," "Miss Housekeeping," and an "eating machine." Trump then renewed his attacks against Machado in a late-night Twitter rant.