FRENCH PRESS AGENCY – AFP
SCHIPHOL/ Netherlands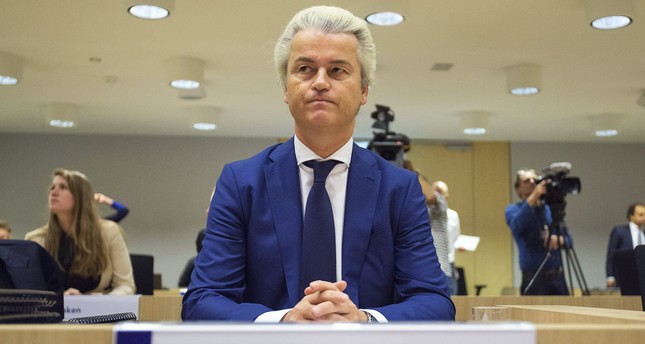 Dutch far-right Party for Freedom (PVV) leader Geert Wilders sits in a courtroom of the courthouse in Schiphol, the Netherlands March 18, 2016. (REUTERS Photo)
Lawyers for Dutch far-right MP Geert Wilders on Friday urged judges to drop an upcoming hate speech case against the controversial politician, slamming it as a "political trial".
Wilders was appearing again before a top security court ahead of his trial, planned for next month, on charges of inciting racial hatred after statements he made about Moroccans in the Netherlands.
"I have no idea what I am doing here," Wilders told the court.
"What I said has nothing to do with racism or hate speech, but merely stating what millions of Dutch citizens think," he said, repeating he "had no regrets".
The case focuses on comments made at a March 2014 election rally, when Wilders asked supporters whether they wanted "fewer or more Moroccans in your city and in the Netherlands?"
When the crowd shouted back "Fewer! Fewer!" a smiling Wilders answered: "We're going to organise that."
His lawyer argued Wilders had merely "put forward his party's political programme", adding he had a fundamental right to freedom of speech.
And lawyer Geert-Jan Knoops accused the prosecution of asking the three-judge bench "to hand down a political verdict" which he said would be "unacceptable and irresponsible".
Such a ruling could "have far-reaching consequences for democracy in the Netherlands," Knoops argued at the hearing in a fortress-like courthouse near Amsterdam's Schiphol Airport.
Knoops drew on a US legal principle from 1803 called the "political question doctrine", which states judges should not rule in political cases.
But state prosecutors denied it was a political trial urging judges to proceed.
"No politician stands above the law," said Sabine van der Kallen.
Wilders was not being prosecuted because of his political party's policies, but specifically because of his statements at the rally, she said.
"There is only one institution that can give a decisive answer whether the law has been broken in this case and that's you," she said.
– 'Close mosques' –
Wilders's remark triggered 6,400 complaints, and criticism from within his own Freedom Party (PVV).
Some 56 people and five organisations have registered as victims of the comments and at least 34 witnesses have come forward, judges said.
A decision on whether to continue the case is now due on October 14, with a trial date already provisionally set for October 31.
Wilders is described as the "most heavily guarded man" in the Netherlands. And since the 2004 assassination of anti-Islam director Theo van Gogh, he has had around-the-clock protection.
But he has drawn heavy flack from fellow MPs after saying he would close all mosques and confiscate Korans — which he famously compares to Hitler's "Mein Kampf" — should he win the elections.
Late last year, his party was riding high in opinion polls as the migrant crisis polarised the country. But in recent months, it has dropped back again ahead of general elections in March.
If found guilty, Wilders could face up to two years in jail or a fine of more than 20,000 euros ($22,000).
In an earlier 2011 hate trial Wilders was acquitted when judges ruled his remarks targeted a religion and not a specific group of people.
SOURCE:   http://www.dailysabah.com/europe/2016/09/23/i-want-fewer-moroccans-dutch-far-right-mp-wilders-asks-hate-speech-case-to-be-dropped