There is an uneasiness among many people at the speed and extent to which British society is changing.
September 5, 2016 13:53 BST, IBTimes.co.uk
How very sad that a turbaned Sikh man, born and bred in Britain, should suffer racial abuse for having the temerity to appear on the Great British Bake Off. What is even more dispiriting, however, is the fact I am not particularly shocked or surprised this has happened.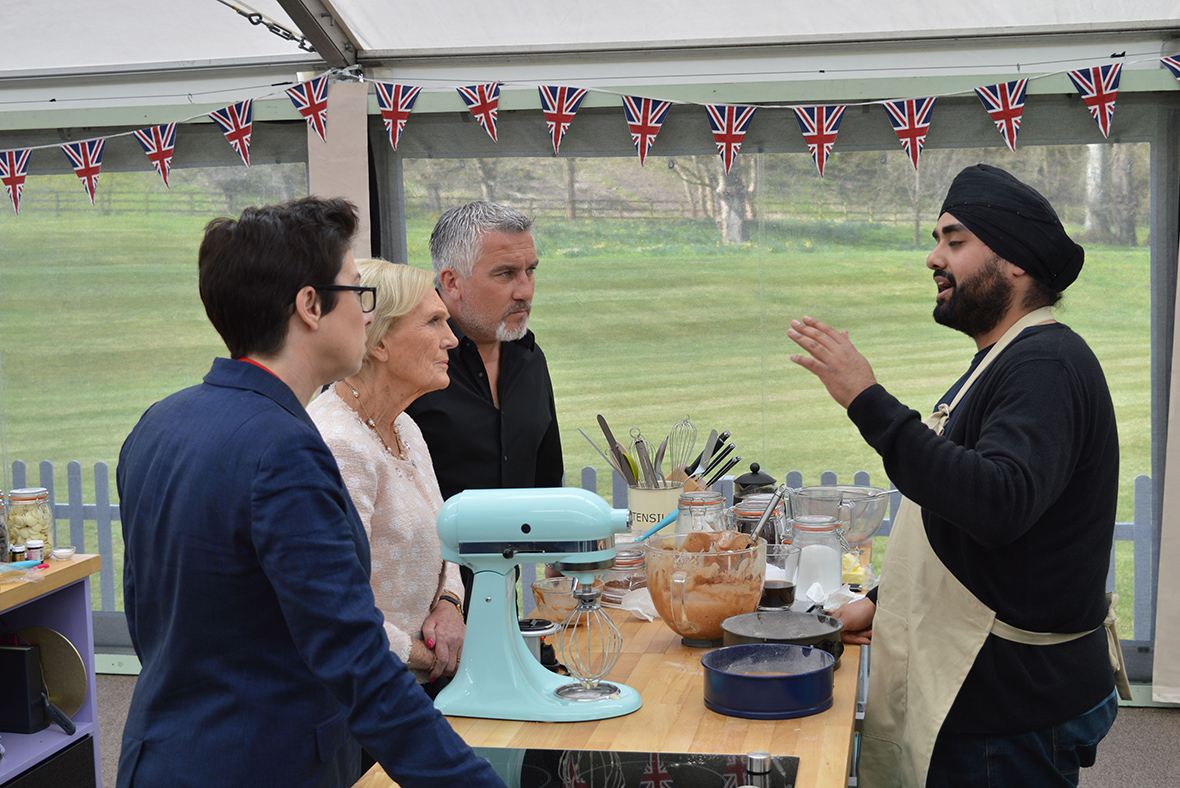 The vile insults that were routinely hurled at my generation of Asians when we were growing up in the 1970s and 1980s – and which were largely consigned to the dustbin of history by the 1990s – have been making a reappearance on Britain's streets after the rather nasty, immigrant-baiting campaign waged by Brexiteers back in June.
But, if the particular abuse aimed at vegan-friendly baker Rav Bansal is anything to go by, it seems the nature of the hostility has changed to reflect how Britain has evolved in the past few decades.
The Bake Off contestant tweeted last week: "So today I was asked 'are you the p*ki on the not so British bake off?' Really, in 2016?"
The key part is the description of the "not" so British Bake Off. When I was a child, if someone called you a Paki it was usually followed by the instruction to "f*** off back where you came from".
It was our very presence in Britain that was questioned in those days. But at least it seems to be accepted now, even by the most virulent racists.
Instead, there is now a belief – or perhaps a vain wish – in some quarters that certain corners of British life should remain untainted by the stain of immigration. A TV show about baking presented by a sweet old lady, for example.
It is easy to condemn the offensive rant of a racist, but in this case I think it is actually a crude manifestation of a wider undercurrent of feeling. There is an uneasiness and discomfort among many people at the speed and extent to which British society is changing in the modern globalised age, one marked by huge flows of migration around the world.
This is a perfectly legitimate concern, and one whose assumptions should be properly considered before they are challenged, rather than being castigated in a knee-jerk manner.
It essentially boils down to this simple question – what does it mean to be British? And, as a follow up, to what extent does the answer include immigrant communities – both recent arrivals and those who are now in their third or even fourth generation?
This was the anxious sentiment underpinning the nation's vote to leave the EU. And it is one that is increasingly expressed in reputable circles, naturally in more moderate tones than the insult aimed at Bansal.
Indeed, at the start of last year's Great British Bake Off a respected columnist in one national newspaper observed how "the average British viewer may have felt distinctly manipulated" at viewing the list of contestants selected by the "sinister" bias of the "BBC's social engineers".
He questioned whether they were chosen on merit from the thousands of applicants, or were contestants like "Nadiya, 30, a smiley Muslim head-dress wearer" picked "because they satisfied the demands of gender/ethnic/sexual/class balance"?
Well the columnist got his answer when Nadiya Hussain went on to win the entire competition in 2015. She was hardly a token presence.
And there, in fact, is the answer to the broader question of what it means to be British in this day and age. Immigrants and their descendants are not, on the whole, living in isolated ghettos.
They may carry the inward beliefs and outward symbols of a foreign culture – whether a turban or a hijab – but this does not preclude them from doing anything that may be considered the preserve of the British, from presenting prime time TV news (Fatima Manji) to playing cricket for England (Monty Panesar and Moeen Ali) or baking a lovely, light, moist WI-approved Victoria sponge.
Read more: Britain has nothing to fear from Sikhs
It was entirely different when I was younger. We accepted that we were not really British at all. We were not only second class citizens but, in some ways, we were inferior human beings.
Then, when the racism died out and a more enlightened age was ushered in, we tentatively emerged into the sunlight. We began to affirm our inherited cultures and assert our personalities, believing we were finally on a level playing field with the indigenous Brits. They, in turn, no longer mocked us but actually celebrated the diversity we brought to drab and grey Old Blighty.
After that, it was simply too late to turn back. Britain has changed. For good or for ill – depending on your perspective – it has become one of the most diverse, multicultural and multiracial societies on the planet. Minority communities are proud and assertive and are not going back to the days of deference and submission. This is the reality.
Minority communities are proud and assertive and are not going back to the days of deference and submission
It is the starting point from which we, as a nation, have to address issues of identity. Those who question this reality, by clinging to a fiction of an entirely white Britain, are living in a form of denial. They are, in my opinion, vexed and irked by something they should be celebrating.
If anyone doubts the virtue of this multicultural vision, they should take inspiration from the words of last year's Bake Off winner Hussain. When appearing recently on another great BBC institution, Desert Island Discs, she explained how she refuses to let her regular experience of racism dampen her enthusiasm for playing a full role in the life of this country.
She said: "I love being British and I love living here, this is my home and it always will be regardless of all the other things that define me… I want my kids to be proud of that and I don't want them to grow up with a chip on their shoulder, so I live as positively as I can.'
Similarly, Bansal drew attention to his recent racist encounter through a single, sober, dignified tweet. There was no great protestation or outcry of woe.
It's called having a stiff upper lip. And what could be more British than that?