Source: The Guardian
By Adam Gabbatt in Williamstown, Kentucky
The Ark Encounter, based on proportions laid out in the Bible, is 510ft long, seven stories tall, and features model animals – including dinosaurs
God curbed his dramatic tendencies on Tuesday, neglecting to initiate a global flood during the figurative launching of a full-size Noah's ark replica in Kentucky.
The Ark Encounter, based in the north of the Bluegrass state, is sculpted to proportions specified in the book of Genesis. It is 510ft long, seven storeys tall and, given its base is made of concrete, almost certain not to survive another of God's watery caprices. (The vessel would displace – while sinking like a stone – 15,000 to 20,000 tons of water).
Answers in Genesis, a creationist religious organisation that believes God created the Earth in six days and that the world is 6,000 years old, is behind the modern-day ark, which will open to the public on 7 July. The group estimates that 1.4m people will visit the vessel in the first year and that the ark will bring $4bn to the Commonwealth of Kentucky. The ark is a non-floating exhibition offering both a glimpse into Noah's life at sea and an opportunity to learn about Answers in Genesis's theories on how our planet came to exist.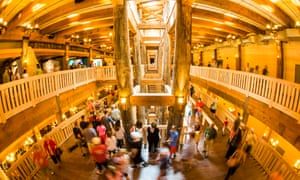 For those making the journey to Williamstown, 50 miles north of Lexington, a genuinely impressive structure awaits. In fact the ark's scale is such that even Charles, the taxi driver who dropped me off there on Tuesday morning and had never heard of the Ark Encounter, despite living only twenty miles away, was impressed.
"Wow," he said as we pulled up at the ark's port side. "That's neat as hell."
Neat is quite a good adjective for the ark's exterior. It looks brand new and pristine. The pale yellow wood on its long hull – Radiata pine imported from New Zealand – brings to mind Ikea's ubiquitous birch veneer furniture collection. In fact, the whole ship looks like something one might find at Ikea: smooth lines, minimal design and a baffling assembly method.
Answers in Genesis got the details for the build from measurements written in Genesis 6, in which God tells Noah the ark should be "300 cubits long, 50 cubits wide, and 30 cubits high". A cubit is roughly the distance from your fingers to your elbow – you can buy a "Noah's cubit" in the gift shop.