theguardian: by Van Badham —
The gender pay gap hasn't moved in a decade. Women are retiring with half the super of men and they still do more housework. Sisters, it's time to kick ass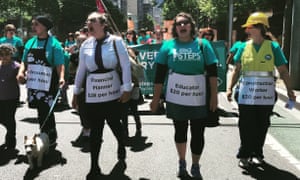 'Early childhood educators have diplomas that are weighted the same as comparable qualifications for male-dominated industries but on average, we're getting paid 15-30% less than them.' Photograph: Van Badham for the Guardian
The average female wage in Australia remains 87% of the average male wage, and the median female wage is still only 90% of the median for men – a gender pay gap that has remained shamefully steady over the past 10 years.
These are just some of the figures released last week in the Australian Bureau of Statistics' (ABS) Gender Indicators report, which paint a dire picture of the enduring economic disadvantage for Australian women.
The figures also show that one in five employed women with dependent children work without any paid leave entitlements at all – twice the rate of men – while more than 40% of women but less than 15% of men work in part-time jobs, which tend to have more insecure conditions.
For Lisa Heap, the women's organiser at Melbourne's Trades Hall,International Women's Day on 8 March provides an opportunity to discuss these ongoing problems with women's economic insecurity and – crucially – to organise against them.
As a result, in Victoria, International Women's Day will run for a week. While IWD events take place around the world on 8 March, Trades Hall has scheduled a festival of commemorative events to take place in Melbourne from 6-11 March. On offer are panel events, exhibitions, a Wikipedia "hackathon", a big party and even a book club.
"Our festival is a deliberate strategy of outreach to working women, union and non-union," Heap said. The attempt is to encourage 3,000 women in Victoria to speak out about their working lives and conditions, so Trades Hall can assist them to mobilise.
Promoted by the UN, International Women's Day is commemorated around the world with local variations; protest marches, celebratory breakfasts, female drummers on the streets of Montevideo in Uruguay, gifts of flowers in Italy and France, courageous rallies of feminists in Iran.
Trades Hall's focus on "Women's Rights at Work" makes the Melbourne event close in spirit to IWD's origins as an explicitly industrial event. The very first International Women's Day was held in America in 1909, organised by local socialists in celebration of an earlier strike by the International Ladies Garment Union in New York that had seen thousands of female workers walk out in protest at oppressive sweatshop conditions. Their slogan: "We'd rather starve quick than starve slow".
An international meeting of socialists in Copenhagen a year later revived the idea to establish a Women's Day, so as to recognise women's working rights and demand women's suffrage. By 1911, the first international marches added to these demands of women's rights to work, to vocational training and to an end to workplace discrimination. It's now 115 years later, but here in Australia, just as many others, those demands have not yet been met.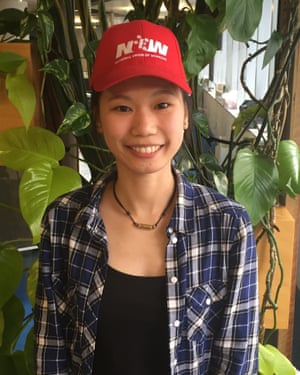 It's women with experiences like Kaylha Ho to whom initiatives like Lisa Heap's make the difference. Ho was once a victim of a dodgy labour hire contractor who deployed her to work for notorious food processing company Covino. Paid below minimum wages, she was pressured and intimidated by the standover culture of her supervisors to remain silent.
But the solidarity that grew among the women at Covino, and the support of male colleagues, empowered her. Ho was one of the women who brought the shocking conditions of their exploitation to public attention. She's now a union organiser, and will be spending International Women's Day addressing MPs at Victoria's Parliament House on the subject of gendered work inequality, and its intersection with racism and other forms of disadvantage.
"Stories of exploitation of workers – in particular females on farms – continue to roll in. We need to take action to stop this," Ho told Guardian Australia.
The need for Australian women to organise in their own industrial interests is clear to the United Voice union organiser, Tamika Hicks, who is spending IWD week planning actions in support of the exploited women workers in the early childhood sector.
"Australian early childhood educators have Certificate IIIs and diplomas that are weighted just the same and require the same rigour to attain as comparable qualifications for male-dominated industries," she says, "but on average, we're getting paid 15-30% less than them. Of course it's a gender pay justice issue – 95% of our industry is female."
Dog groomers get more money an hour than women trained to educate children. So do – on average – financial planners, metalworkers and aviation mechanics.
Hicks knows families can't afford an increase in childcare costs, making it the government's responsibility to meet the educator pay gap. But, again, the issues are intersectional; although effective childcare is crucial to retaining women's participation in the workforce, Hicks knows the battle ahead is a hard one.
"As a country," she tells me, "we spend one of the lowest percentages on early childhood care and education in the OECD."
Hicks takes great inspiration from Zelda D'Aprano, a feminist activist veteran from the Australian equal pay struggles of 1968, recognising that underneath breakfasts, flowers, drums, marches and the occasional violent crackdown lies a reality that there is no social equality without economic equality.
"We've got to reignite women into believing they do not need to accept inequity," says Hicks, "That's what's staring us all right in the face."
Origional Post here: http://www.theguardian.com/commentisfree/2016/mar/04/dog-groomers-make-more-per-hour-than-women-who-educate-children