Source: The Guardian
The French principle of secularism has been twisted by politicians and so often wrongly used to attack Islam that schoolchildren have been left baffled, the French education minister has warned.
Najat Vallaud-Belkacem told the Guardian that after last year's devastating jihadiattacks in Paris, France was overhauling the teaching of secularism and civic values as part of the country's drive against terrorism and radicalisation.
"We have to reappropriate the concept of laïcité [secularism] so we can explain to our young pupils that whatever their faith, they belong to this idea and they're not excluded. Secularism is not something against them; it protects them," she said.
Since last January's attacks on the satirical weekly magazine Charlie Hebdo and a Paris kosher supermarket, when 17 people were killed, and November's attacks that killed 130, French schools have taken centre-ground in the nation's soul-searching on how young French men could take up guns against their fellow citizens.
Much of the soul-searching has been painful. There were more than 200 incidents of disruption in schools during the minute's silence after the attack on Charlie Hebdo, a magazine that published the Muhammed cartoons. In turn, the government launched an action plan against inequality and what the prime minister called France's "territorial, social and ethnic apartheid". Since then, more than 800 children have been flagged up by schools over potential radicalisation.
In an interview with the Guardian as she travelled to London to look at how UK schools tackle social inequalities and to discuss digital education, Vallaud-Belkacem said the principle of secularism was central to the anti-radicalisation struggle in France.
France is a secular republic built on a clear separation of church and state, intended to foster equality for all private beliefs. The state remains neutral in terms of religion but must safeguard everyone's freedom to practise their own faith. In 2004, France banned girls from wearing Islamic headscarves in state schools – along with banning all other religious symbols such as crosses or turbans – arguing schools must be free of all religion.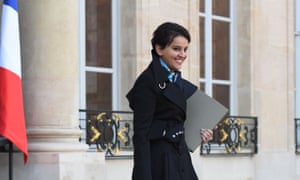 But Vallaud-Belkacem said France was overhauling how it teaches secularism because the concept had been twisted by rightwing politicians in recent years.