Published 35 minutes ago
A man arrested over a deadly bow and arrow attack in Norway had converted to Islam and there were fears he had been radicalised, police say.
The 37-year-old Danish citizen is accused of killing four women and a man on Wednesday night in the southern town of Kongsberg.
Police were in contact with the man last year over their concerns.
The suspect has not been identified, and police are working to establish whether it was a terror attack.
Meanwhile, flags were flown at half-mast on Thursday while flowers and other memorials were placed in Kongsberg's main square.
The victims were all aged between 50 and 70, regional police chief Ole Bredrup Saeverud told reporters.
Residents have told local media that the close-knit community has been deeply shaken by the violence.
Police confronted the man six minutes after the attack began at 18:12 (16:12 GMT) on Wednesday, but he shot several arrows at the officers and escaped. He was caught at 18:47 – 35 minutes after the attack started.
All five victims are believed to have been killed after the police first encountered the man. Officers fired warning shots before he was eventually arrested.
The attack was Norway's deadliest since far-right extremist Anders Behring Breivik murdered 77 people, most of them teenagers, on the island of Utoya in July 2011.
'People ran for their lives'
The attacker allegedly launched the assault inside a Coop Extra supermarket on Kongsberg's west side. One of those injured was an off-duty police officer who was in the shop at the time.
The officer and another person who was wounded are recovering in hospital with non-life-threatening injuries.
One witness told local outlet TV2 she had heard a commotion and saw a woman taking cover, then a "man standing on the corner with arrows in a quiver on his shoulder and a bow in his hand".
"Afterwards, I saw people running for their lives. One of them was a woman holding a child by the hand," she added.
Police have told Norwegian news agency NTB that the attacker also used other weapons during the incident, without giving more details.
The suspect moved over a large area, and authorities cordoned off several parts of the town.
Residents were ordered to stay indoors so authorities could examine the scene and gather evidence. Surrounding gardens and garages were searched with the help of sniffer dogs.
'The atmosphere here has darkened'
Kongsberg Mayor Kari Anne Sand said it was a shocking attack in an area where many people lived, and that a crisis team would help anyone affected.
Describing the town as "a completely ordinary community with completely ordinary people", Ms Sand said everyone had been deeply shaken by "this very tragic situation".
British woman Fiona Herland, who has lived in Kongsberg for five years, described the town as "a very warm, cosy place – nothing happens here."
"This is absolutely devastating. You can feel the atmosphere here has darkened," she told the BBC.
The suspect was taken to a police station in the town of Drammen, where his defence lawyer, Fredrik Neumann, said he was questioned for more than three hours and was co-operating with authorities.
The suspect had a Danish mother and Norwegian father, he said. Denmark's Prime Minister Mette Frederiksen has said Danish authorities will work with their Norwegian counterparts on the investigation.
Police prosecutor Ann Irén Svane Mathiassen told TV2 that the man had lived in Kongsberg for several years.
The attack came on the final day of then-Prime Minister Erna Solberg's conservative government. On Thursday morning, Labour leader Jonas Gahr Store became Norway's new Prime minister with a centre-left coalition.
Mr Store said it was a "gruesome and brutal act".
Bows and arrows are not classed as illegal weapons in Norway. Buying and owning them is permitted, and owners are not required to register them, although they must be used at designated archery ranges.
After the attack, police officers nationwide were ordered to carry firearms as an extra precaution, but there is "no indication so far that there is a change in the national threat level," the directorate said in a statement (in Norwegian).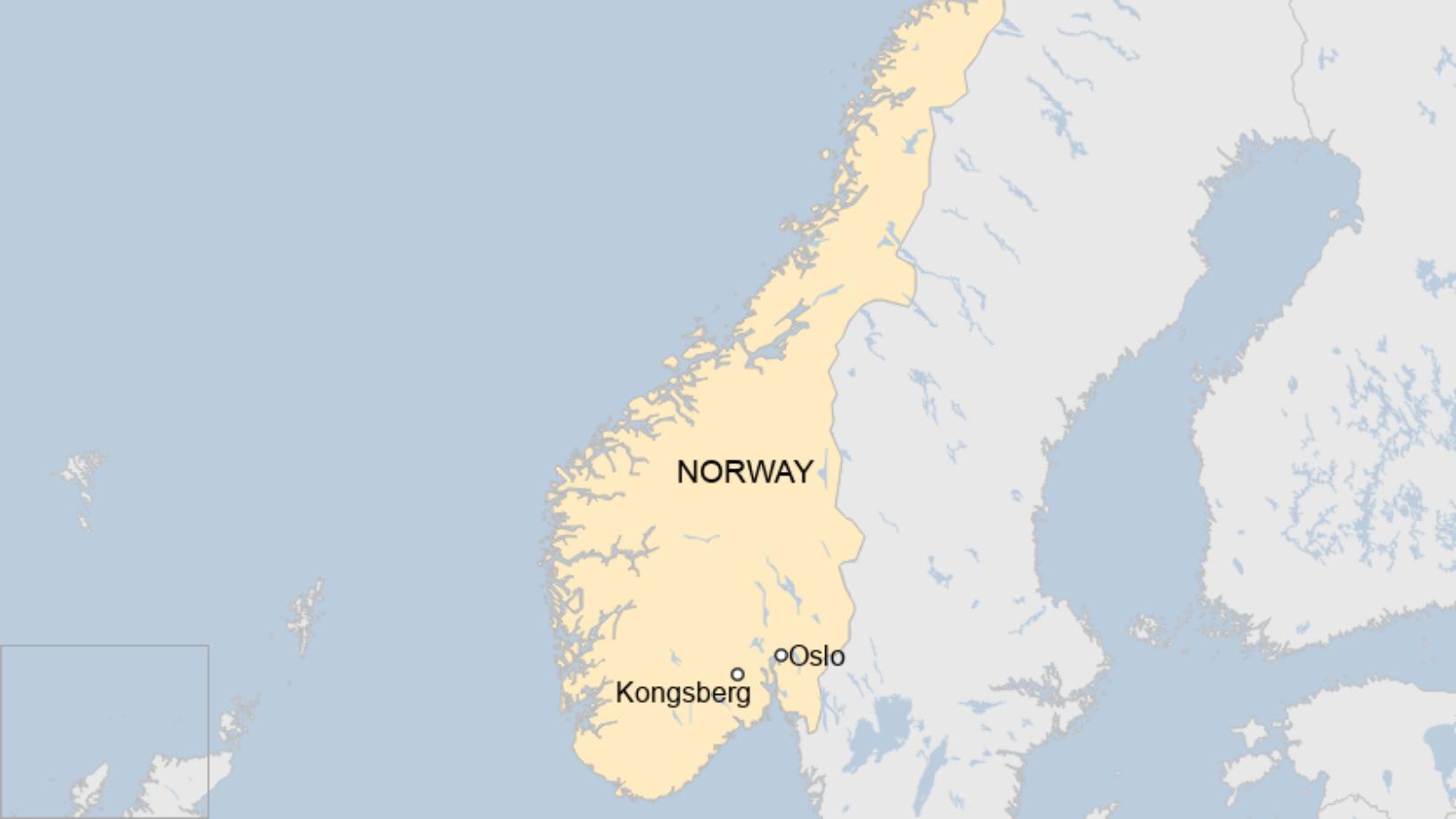 source https://www.bbc.com/news/world-europe-58910794