Ahmadiyya holds Int'l Jalsa in UK
Staff Correspondent | Published: 20:21, Aug 07,2021 |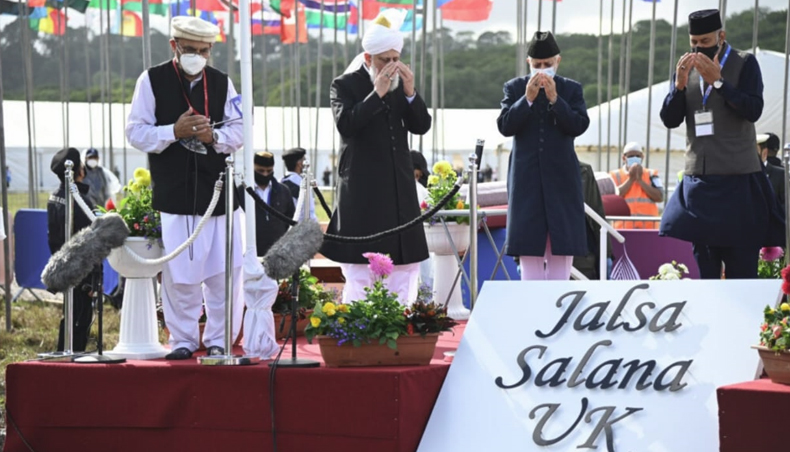 Hazrat Mirza Masroor Ahmad, Khalifa of World Ahmadiyya Muslim Jamaat, inaugurates its 55th annual Jalsa in the UK by hoisting the flag of Ahmadiyya Jamaat along with the national flag of 200 countries and offering prayer on Friday. — Press release photo
The Ahmadiyya Muslim Jamaat is hosting its 55th annual Jalsa in the UK on August 7-8.
Hazrat Mirza Masroor Ahmad, Khalifa of World Ahmadiyya Muslim Jamaat, inaugurated the festival by hoisting the flag of Ahmadiyya Jamaat along with the national flag of 200 countries and offering prayer at 9:25pm on Friday.
Speakers including the Ahmadiyya Khalifa are delivering speeches at the Jalsa. The inaugural address was delivered at 8:30pm Bangladesh time on Friday by the Khalifa.
At the end of his speech, he prayed for peace in the world, brotherhood in the Muslim world and for the recovery from the epidemic situation.
The closing speech and prayer is going to be conducted by World Ahmadiyya Khalifa at 10:00pm Bangladesh time on Saturday, said a press release.
source https://www.newagebd.net/article/145721/ahmadiyya-holds-intl-jalsa-in-uk