An unfinished building, abandoned in the middle of a settlement in Nyalindung Village, Cilawu District, Garut Regency, West Java. The sign line is prohibited to cross satpol PP Garut regency across one part of the building.
The building that stands on an area of 100 square meters is a candidate for the Ahmadiyya congregation mosque in Nyalindung Village. However, it has not been completed yet, on Thursday (6/5) Garut Regent Rudy Gunawan ordered to seal and stop the construction process.
Rudy also prohibited all religious activities of the Ahmadiyya congregation through the Circular Letter of the Regent of Garut Number 451.1/1605/Bakesbangpol, under the pretext of carrying out the order of the Joint Decree (SKB) of three Ministers.
SKB Tiga Menteri entitled The Order on adherents and administrators of the Ahmadiyya Church of Indonesia (JAI). The SKB was signed by the Minister of Religious Affairs, The Minister of Home Affairs, and the Attorney General in 2008.
The SKB contains six decisions. Although there is no order to disband Ahmadiyah, the government prohibits Ahmadiyya activities that are considered contrary to islamic teachings.
The Ahmadiyya mosque candidate has been working since 2014. However, it was never completed because of the continuous protests of Islamic organizations in the area. It has been repeatedly anti-Ahmadiyya organizations come to Nyalindung just to stop the process of building mosques.
"Approximately eight times we were visited by FPI (Islamic Defenders Front) and NGOs (non-governmental organizations) that are anti-Ahmadiyya," said one of the leaders of the Ahmadiyya congregation in Nyalindung, Asep Nanu Haryono when contacted by Alinea.id, Thursday (13/5).
"Until now we have not been able to worship safely and comfortably because it continues to be under pressure."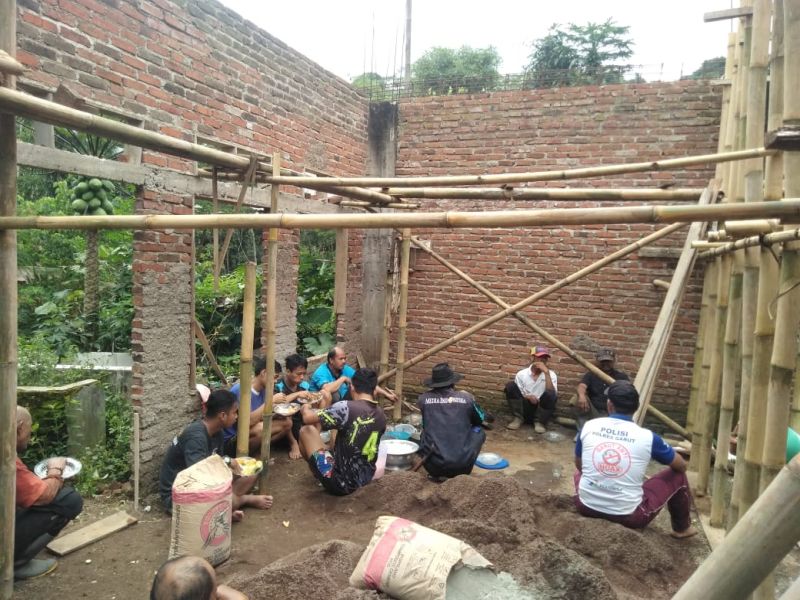 Mosques vandalized, worship unsafe
In Nyalindung, there are 43 heads of families or 130 members of the Ahmadiyya congregation. According to Nanu, many of Nyalindung's residents were instigated by anti-Ahmadiyya groups. Intimidation first occurred in 2013. In fact, he said, FPI and majelis Ulama Indonesia (MUI) often held a grand tablig accompanied by intimidation narrative to terrorize the Ahmadiyya community.
"They call halal the blood of the Ahmadis," he said.
"It happens every year to scare our mothers and children."
The situation is getting worse because law enforcement even turned a blind eye to the intimidation that occurred. Nanu said, Cilawu Police even gave the freedom to the citizens to intimidate. Until now, ahmadiyah congregations in Nyalindung still do not dare to wear attributes in their daily activities because of fears of conflict.
Nanu said that the persecution and intimidation of ahmadiyah congregations also affects the younger generation of their members. According to Nanu, the younger generation of Ahmadiyah congregations become afraid of being abused by local residents if they participate in religious activities.
"So religious activities are somewhat disturbed" said Nanu.
source and more
Ahmadiyah di Garut: "Stigma kafir membuat kami dicurigai…" (alinea.id)