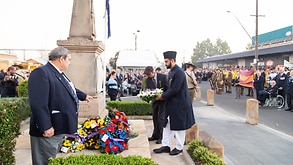 Ahmadi Muslims attended ANZAC services today to honour the nation's servicemen and servicewomen and to show solidarity for the victims of the Sri Lankan bombings.
The event was organised by the local RSL and the Ahmadiyya Muslims group, which has its mosque at Marsden Park close by.
About 3000 people attended the event at Riverstone, among them many people from the Muslim community.
A spokesman for the Ahmadiyya Muslim Community Aqueel Ibraheem said prayer was an important contribution to the dawn service.
"Imam Hadi, who is our minister for religion, led a prayer which lasted around eight to nine minutes," Mr Ibraheem said.
"He recited the first chapter from the holy Koran which speaks about peace and sacrifice and praying to god for the betterment of humanity.
"It was concluded by his short message saying how important the sacrifice is made by our heroes for our betterment, a better tomorrow; it should not be forgotten and we need to remember them, pray for them and teach our children that we all need to be ready to sacrifice our life, time and honour for the sake of this country."
Mr Ibraheem said the key message was to bring the communities together.
He added the Ahmadiyya community offered free tea and coffee to all visitors of the service.
The Ahmadiyya Muslim Community is a fast growing international revival movement within Islam.
source: