DAILY SABAH
ISTANBUL
Published 07.03.2019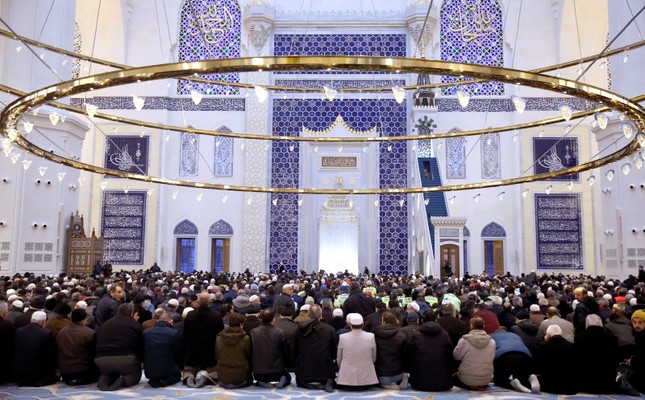 AA Photo
Hundreds of people attended the first ever prayer at the Çamlıca Mosque in Istanbul, following completion of its construction that started in 2013.
The faithful gathered at Turkey's now largest mosque complex before sunrise Thursday to perform a Fajr, or dawn, prayer.
Binali Yıldırım, Istanbul mayor candidate for the ruling Justice and Development Party (AK Party) as well as former Prime Minister and Parliament Speaker, joined the faithful at the Çamlıca Mosque for the prayer.
"It turned out to be a great work of art. The mosque is a magnificent piece of work that will add beauty to Istanbul's grandeur," he said.
According to Yıldırım, the first prayer was held to coincide with the Laylat al-Ragha'ip, or the Islamic night of wishes, which falls on the night from Thursday to Friday.
The foundation for the mosque, which is capable of hosting 60,000 faithful at the same time, was laid in August 2013.
Designed as a successor rather than a rival to grand Ottoman-era mosques like the famed Blue Mosque, Çamlıca incorporates the old and new in its architecture with traces of decoration and building styles from the Ottoman era and the pre-Ottoman Seljuk architecture.
Apart from six minarets representing the six articles of the faith, its four minarets are exactly 107.1 meters tall, in a tribute to 1071 Malazgirt (Manzikert) victory of the Seljuks against the Byzantine army that cemented Muslim rule in Anatolia. Its 72-meter high main dome represents what builders say are the 72 nations who lived in the city.
The secondary dome has a diameter of 34 meters, after the license plate number for the city. The interior of the dome is inscribed with 16 adjectives attributed to Allah and 16 here also symbolizes the number of states founded by Turks in history. Atop the main dome is a three-piece finial that weighs 4.5 tons and at a height of 7.77 meters, the largest of its kind.
source: