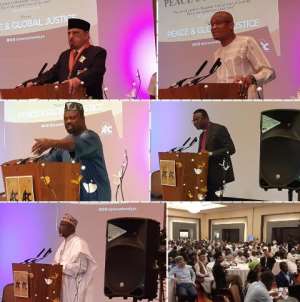 Sir Dr. Ifikar Ahmed Ayaz, Consul General of Tuvalu in London has attributed the unrest and wars in the world to the lack of justice at every level of society.
He said it was only through the recognition of God that mankind could establish true justice and usher in an era of communal and global justice.
Dr. Ayaz said this at a Peace Conference, organised by the Ahamadiyya Muslim Mission in Ghana, held on the theme: 'Peace and Global Justice' in Accra.
The one-day conference was attended by government officials, the security agencies and experts, politicians, diplomats, corporate executives, traditional and religious leaders.
The conference was aimed at promoting a deeper understanding of the teachings of Islam in relation to peace and inspires concerted efforts towards lasting global peace.
He said, if the Islamic religion was practiced in its pure and pristine form, with absolute justice as a cardinal component as demonstrated by the Ahmadiyya Muslim Community, it could be a catalyst in achieving the twin goals of global peace and justice.
The London Based Diplomat said, it was time for the religion to take its rightful place as a unifying force in establishing a society based on mutual affection and brotherhood necessary for the realization of peace and justice.
He said the progress of Africa Continent depends on the prevalence of social and economic justice for all that would truly lift everyone from poverty to prosperity.
Dr. Ayaz, who is also a Human Rights Campaigner, said the achievement of global peace and justice was based on its direct correlation with the establishment of peaceful society, eradication of poverty, promotion of democratic governance, morality and true universal brotherhood.
He however noted that true universal brotherhood under which man develops sensibility and sensitivity to the pain and suffering of others, could only be established only by virtue of man's relationship with one another through loyal and faithful relationship with God.
'It is only through recognition that all men are equal creatures of the same Benevolent God and they must constantly seek His pleasure through the discharge of both rights due Him and to His creation.
Dr. Ayaz said: 'in Africa and other parts of the world, it had been learnt through bitter experiences that security for the few is, in fact, insecurity for all; and that peace for the few is, in fact, lack of peace for all.'
According to him, the lack of peace in some developing countries was exhibited by some notorious leaders who has ethic of self-perpetuation in power.
'This one word 'Power' sums up the ordeal of most developing countries. The struggle for power, seizure of power, concentration of power in the hands of one individual or group, and the subsequent refusal to relinquish or share power has sucked these countries into a vortex of violence, repression, tyranny and corruption.'
He called for piety, righteousness, belief in life after death and accountability as prerequisites to reverse this trend, and that it was incumbent upon those in authority to show sensitivity to the cause of their people to ensure no agitations and protests.
Dr. Ayaz urged Africans to maintain an abiding faith in their capacity to live in peace and seek justice and a better way of life for their peoples.
'We must, seize the moment in our quest for global peace and justice and a brighter future for the continent; in our endeavour we should transcend man-made differences by bringing harmony where there is division'.
Hadhrat Mirza Masroor Ahmad, Khalifatul Masih V, Head of the Worldwide Ahmadiyya Muslim Community expressed the hope that participants of the conference would recognize that establishing peace in the world was the single greatest challenge facing mankind today.
In a speech read on his behalf by Maulvi Mohammad Noor Bin Salih, Ameer and Missionary In-charge of Ahmadiyya Muslim Mission of Ghana, he said through new technologies and modern forms of transportation, the world has become like a global village where nations inter-connected.
He said these inter-connections has led to the advancement and progress in many spheres and has enabled people living from thousands of miles apart to be constantly connected.
'It has also led to the harmful developments that has destabilised the world and causes for world peace steadily deterioration in recent times'.
The Ahmadiyya Africa Peace Prize was awarded to Cardinal John Olorunfemi Onaiyeka, Archbishop of Abuja, Nigeria, in recognition of his outstanding service for the advancement of the cause of peace in Nigeria.
Among the speakers were Dr. Mustapha Abdul-Hamid, the Minister of Zongos and Inner City Development, Most Reverend Professor Emmanuel Asante, Chairman of the National Peace Council and Dr. Vladimir Antwi Danso, the Dean of Studies at the Armed Forces Command and Staff College.
The Ahmadiyya Muslim Jama is a dynamic, fast growing, International revival movement within Islam.
It was founded in 1889 by Hazrat Mirza Ghulam Ahmad, and has movements in over 212 countries with membership exceeding tens of millions.
The Ahmadiyya Muslim Jama'at is the only Islamic organization to believe the long awaited Messiah has come in the person of Hazrat Mirza Ghulam Ahmad (1835-1908) OF Qadian.
GNA
By Amadu Kamil Sanah, GNA
source:
https://www.modernghana.com/news/889977/lack-of-justice-cause-of-global-unrest.html