As campaigning begins in the world's third-largest democracy and most populous Muslim nation, polls reveal the issues likely to decide the race between Joko Widodo and Prabowo Subianto
PUBLISHED : Friday, 05 October, 2018,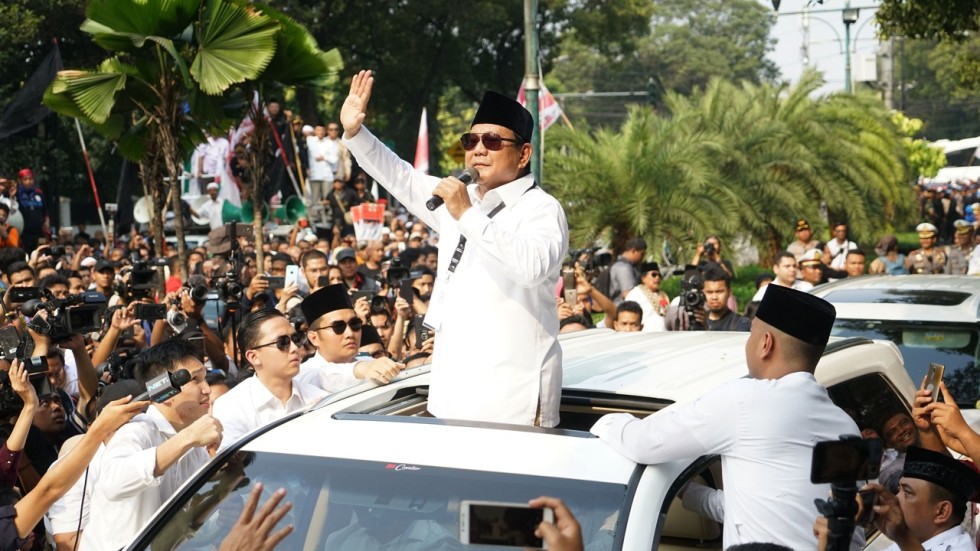 As campaigning begins for the Indonesian elections, new polls suggest a falling rupiah and rising racial and religious tensions are the key issues standing between President Joko Widodo and a second five-year term.
But challenges are also mounting for Widodo following the double disaster of the 7.4-magnitude earthquake and the tsunami that hit Sulawesi last week, with a death toll that stands at more than 1,400 people and is expected to rise as search and rescue efforts continue.
The six-month campaigning period began on September 23, with presidential and vice-presidential candidates donning traditional costumes and releasing white doves to symbolise their pledges for peaceful opposition.
For the first time, parliamentary and presidential elections will be held simultaneously in the world's third-largest democracy, on April 17, when 187 million Indonesians will be eligible to cast their vote.
The presidential election sees a replay of 2014, with incumbent Widodo taking on former special forces general Prabowo Subianto.
A newly released survey by Jakarta-based research house Indikator found that nearly 58 per cent of respondents currently favoured Widodo and Ma'ruf Amin, his running mate, whereas 32.3 per cent would go for Prabowo and his vice-presidential candidate, Sandiaga Uno. However, 25 per cent would consider voting for either side – suggesting Widodo's lead could be challenged.
Both sides have agreed to suspend their campaigns in Central Sulawesi after the disaster. The suspension, however, is unlikely to hamper Widodo's popularity in polls.
Still, his government's response will be closely monitored by their opponents, who are expected to point out the lack of maintenance of the tsunami-detecting buoys set up after the 2004 quake and tsunami that claimed over 120,000 lives in Aceh and Nias. None of the 22 buoys has been working since 2012 due to vandalism and thievery, according to the country's disaster agency.
"All polls show [Widodo] leading over his rival with more or less 60 per cent of the votes, but we acknowledge that there is still some homework for us to do," Bambang Soesatyo, chairman of Indonesia's House of Representatives and leader of the Golkar party, part of Widodo's coalition, said during a panel held by Indikator.
"This includes economic issues and identity politics, which remains a threat to national unity."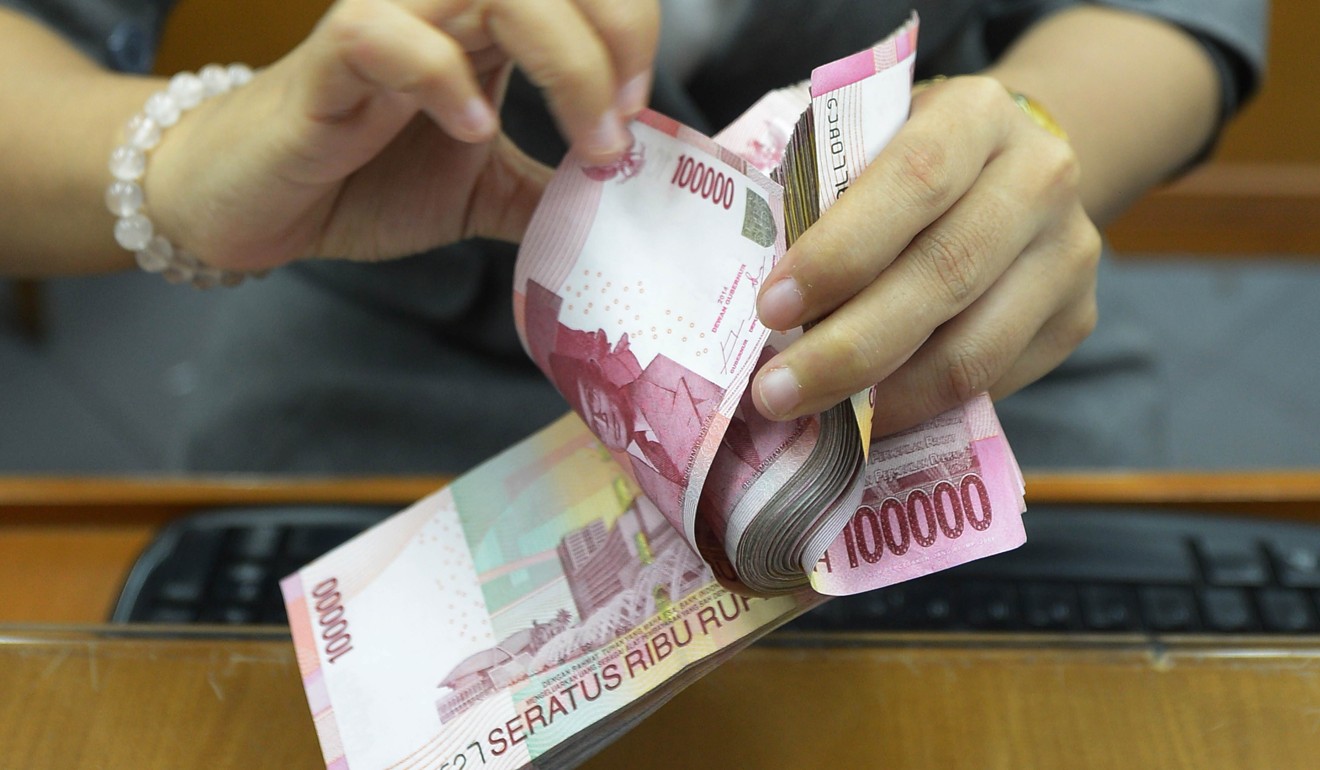 IT'S THE ECONOMY, STUPID
The opposition is likely to home in on economic woes including a slide in the value of the rupiah, which hit a two-decade low against the US dollar this month.
The Indonesian stock market and currency have been among the worst hit by a rout in global emerging markets triggered in part by the US-China trade war and a loss of liquidity.
The opposition will be keen to paint the dip in the rupiah as reflecting Widodo's inability to rein in capital outflows.
While the Indikator survey found 42 per cent of respondents felt their household finances were better than last year, more than 38 per cent said their finances were stagnant. More worryingly for Widodo, 18 per cent said their finances were worse – despite a major infrastructure drive and economic growth under his administration.
"We continue to push for the government to take a permanent step to prevent the rupiah from falling further against the US dollar, as it will be used to curtail [Widodo's] electability," Soesatyo said.
Widodo will also have to deal with inflation and weakening buying power caused by the currency depreciation, said Maruarar Sirait, a member of parliament from the president's party, the Indonesian Democratic Party of Struggle.
Shortly after the Sulawesi disaster, the interior ministry said survivors would be allowed to take basic necessities and daily items from shops, for which the government would later reimburse shop owners. The opposition saw this emergency measure as permission to loot, especially in the context of looting not just in supermarkets but on aid vehicles and ATMs among others. The policy has since been revoked as international aid trickles in to the disaster-struck areas; but Widodo's opponents will also monitor the government's handing of this aid, be it in terms of logistics or donations.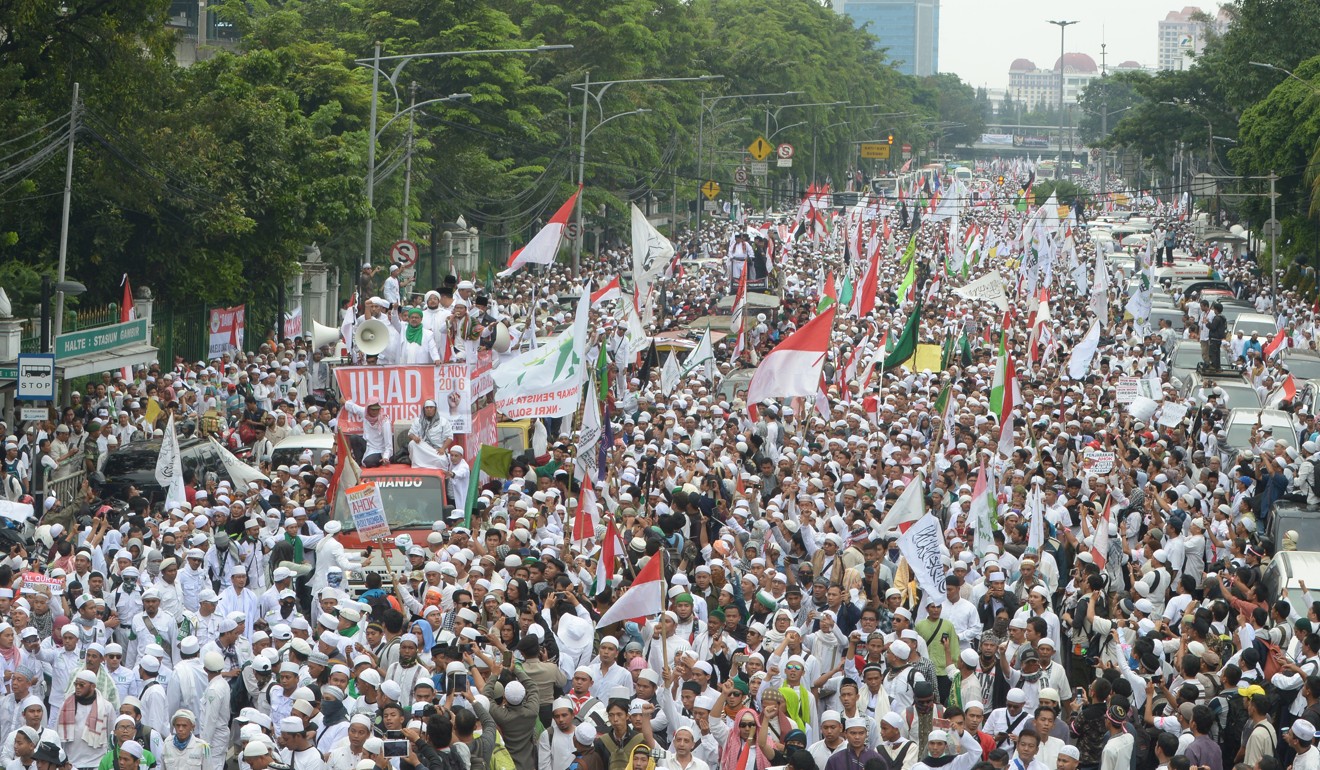 OR IS IT THE IDENTITY?
The other issue both campaigns are likely to go big on is identity politics. Race, religion and ethnicity could play more of a part in swaying voters than either party ideologies or candidates' individual merits.
Partly, this is a legacy of the first mass protest held by Muslim hardliners in December 2016 against former Jakarta governor, Basuki Tjahaja Purnama, or Ahok as he is widely known. Ahok, a Christian of Chinese descent, is serving a two-year prison sentence for blasphemy. The sentence relates to a doctored video that shows him telling voters not to be fooled by a verse in the Koran that dictates Muslims shouldn't vote for non-Muslims.
A recent survey by the Indonesia Survey Institute found 38 per cent of Muslim respondents objected to non-Muslims practising their religion in Indonesia, the world's largest Muslim-majority country, up slightly from 36 per cent last year. More than half of Muslim respondents also objected to non-Muslims building religious facilities, a 4 per cent increase from 2017.
"Religion will still be used for political gains during campaigns, and it will be used by both sides," said Yenny Wahid, the daughter of former president Abdurrahman Wahid, who last week announced her support for Widodo.
"Prabowo is still going to be seen as promoter of an [Islamic] caliphate, and [Widodo] will be attacked because people still assume he is a communist. It's important for us not to believe these hoaxes and baseless [accusations]."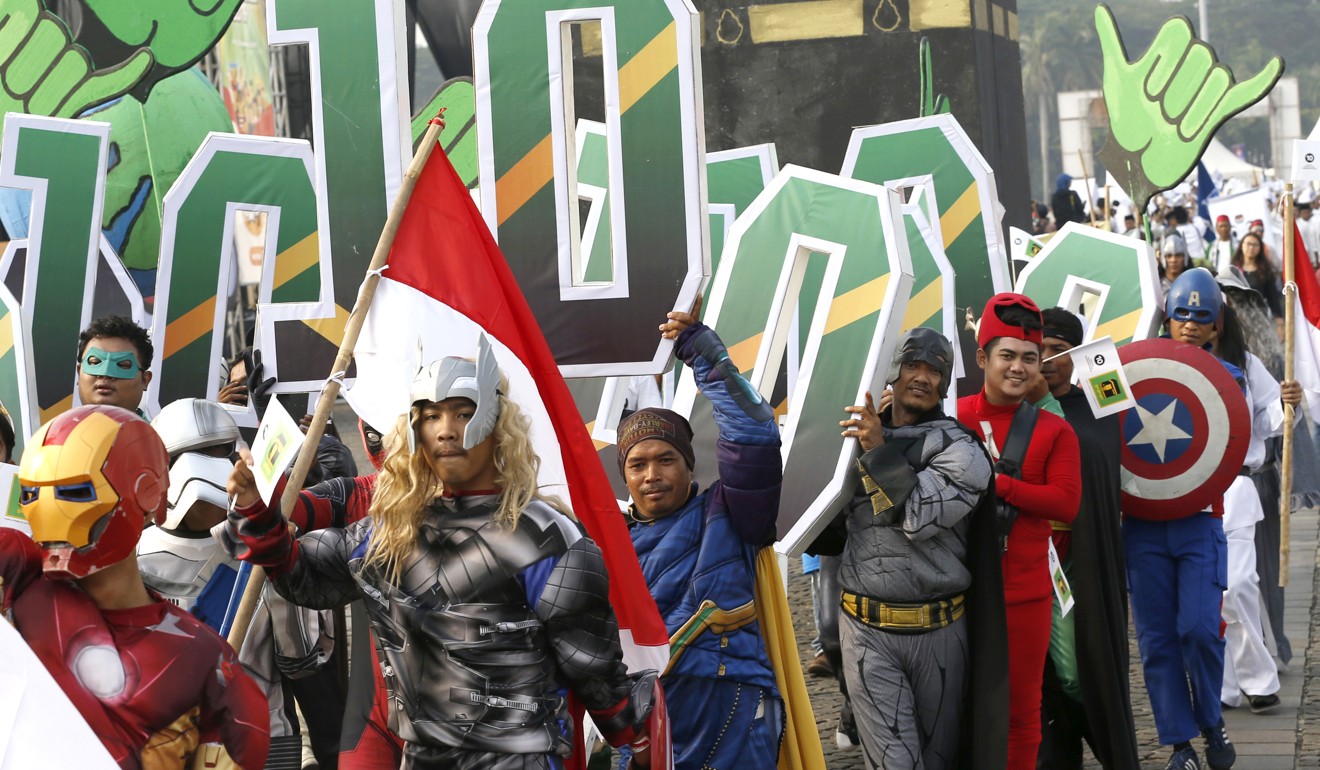 While racial and religious tensions are on the rise, there are reasons for optimism.
The nomination of Ma'ruf, the chairman of the Indonesian Ulema Council, as Widodo's running mate is expected to lessen the political friction between Muslim voters. Nearly half of respondents in the Indikator survey thought Ma'ruf could help put an end to identity politics, while more than half thought Amin could unite Muslim voters altogether.
"Our concern is how to fend off smear tactics using religious, race, and ethnicity-related issues, and we are right to pick Ma'ruf Amin as VP candidate as he can bring together nationalist and religious voters," said Sirait of the Indonesian Democratic Party of Struggle.
Nevertheless, Ma'ruf's electoral effect may not be as strong as that of Sandiaga Uno, a well-known investor who, before his nomination as Prabowo's running mate, was Jakarta vice-governor. The Indikator survey found respondents were more familiar with Sandiaga than Ma'ruf.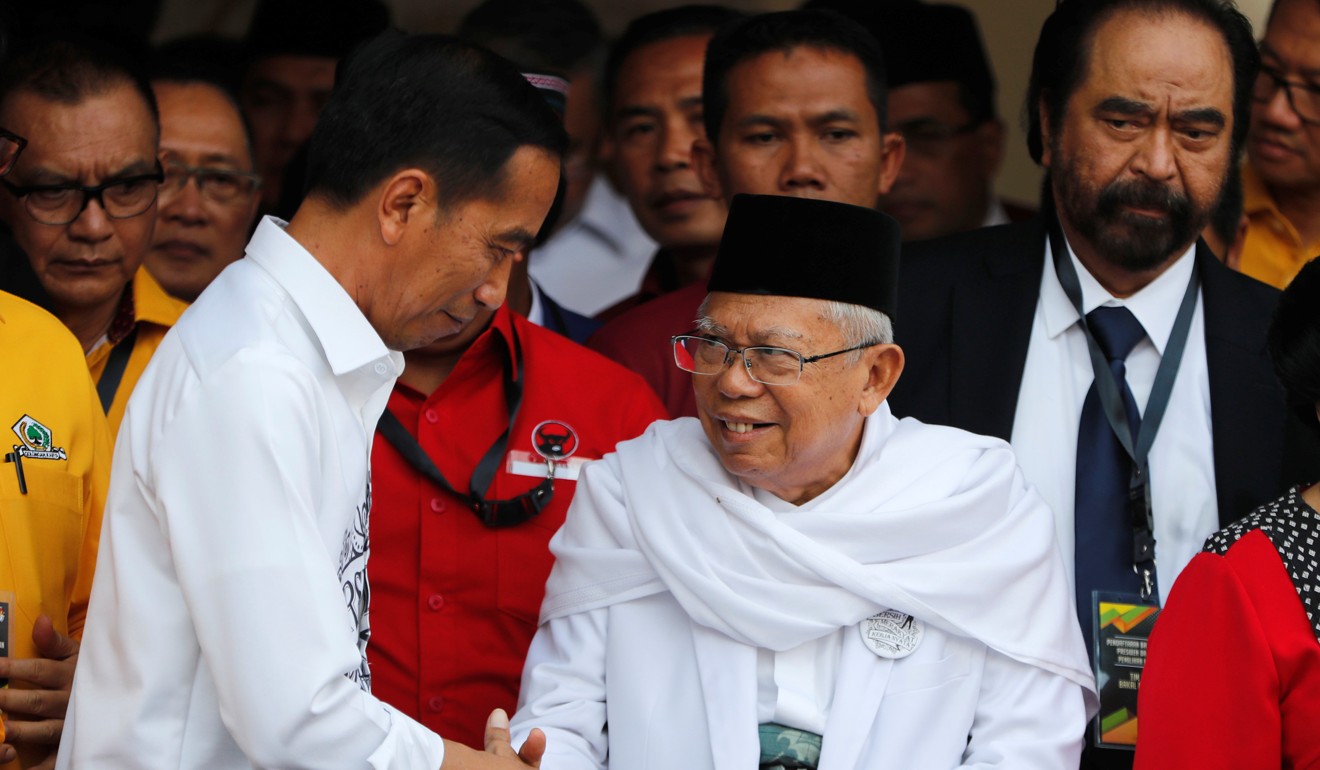 When the names of the VP candidates were thrown into the equation, Jokowi-Maruf's electability among respondents declined to 54.9 per cent from 57.7 per cent, while Prabowo-Sandiaga's jumped nearly 3 per cent to 35.1 per cent, underscoring Sandiaga's 'wow effect' among voters due to his image as a successful, populist, and relatively young politician.
"Sandiaga Uno gives off new energy with extraordinary electoral effect, particularly towards millennials, our main target," said Riza Patria, a member of parliament from the Great Indonesia Movement Party, Prabowo's party.
"Despite being well-off, he always wears modest outfits and he told us that for campaigns he wants to meet the public in coffee kiosks instead of five-star hotels."
All camps are eyeing the millennial vote, as this group makes up 40 per cent of the population. To counter Sandiaga's charm, Widodo picked Erick Thohir, the 48-year-old media tycoon behind this year's Asian Games, as a campaign manager alongside Wahid. Whether that's enough to sway voters is yet to be seen, but the opposition remains confident.
"There are still many voters that are undecided, indicating that they are not fully satisfied with the Widodo administration," said Mardani Ali Sera, member of parliament from the Prosperous Justice Party, which belongs to Prabowo's coalition of parties.
"We need to prove that they can migrate to us … so the political landscape can still change."
source:
https://www.scmp.com/news/asia/southeast-asia/article/2166806/rupiah-and-race-where-indonesian-election-will-be-won-or