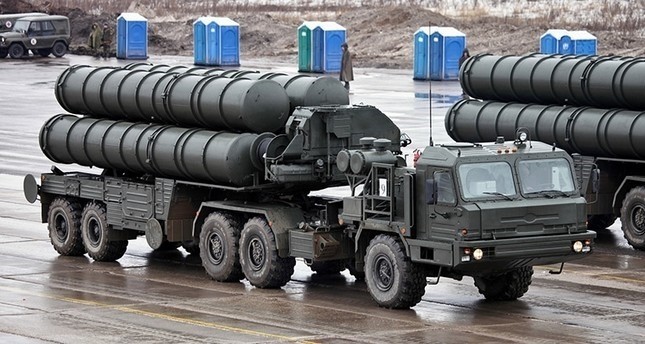 S400 missile defense system developed by Russia
Turkey could purchase weaponry from any country, be it a NATO member or not, President Recep Tayyip Erdoğan said late Thursday.
Speaking to reporters after his New York visit, the president also added that Turkey could "even jointly produce weaponry" with any country including Russia and China, and is preparing itself accordingly.
"It is not appropriate to try to block a country if there is free market economy involved," Erdoğan said.
In December, Turkey officially signed a $2.5 billion agreement with Russia for the S-400s – Russia's most advanced long-range anti-aircraft missile system. With the move, Turkey is set to become the first NATO member country to acquire the system. Turkey's interest in the Russian systems started due to Washington's indifferent attitude on technology transfer in the case of a possible purchase of the American-made Raytheon Patriot missiles. Turkish officials said in July that Ankara may consider buying Patriot missiles but it won't consider them as an alternative to the Russian S-400 system.
With the S-400s, Ankara aims to build Turkey's first long-range air and anti-missile defense system to boost its defense capabilities amid threats from PKK and Daesh terrorists at home and conflicts across its borders in Syria and Iraq.
Turkish officials have repeatedly stressed the fact that ties with other countries are not seen as alternatives to one another and that Turkey's diplomacy is based on mutual advantage. As well as its diplomatic and economic ties, the country pursues this balance policy in meeting its defense needs.
The U.S. has expressed concern that NATO ally Turkey's planned deployment of the S-400s could risk the security of some U.S.-made weapons and other technology used by Turkey, including the F-35s.
source:
https://www.dailysabah.com/defense/2018/09/28/turkey-to-purchase-from-jointly-produce-weaponry-with-any-country-nato-member-or-not-erdogan-says