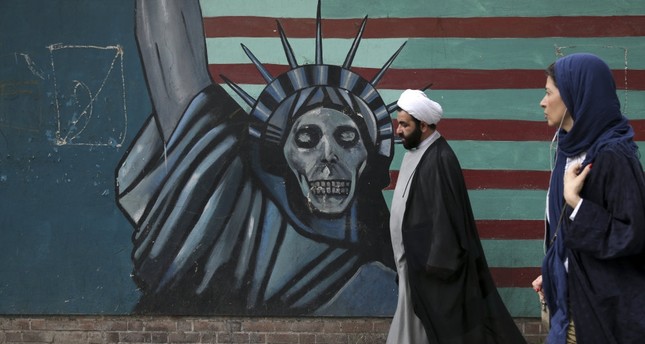 A cleric and a woman walk past an anti-U.S. mural painted on the wall of the former U.S. Embassy in Tehran.
U.S. foreign policy and a wider anti-Middle East security strategy under Donald Trump have cast a dark cloud over its already damaged status in the world
The U.S.'s anti-Middle East grand security strategy is designed to preserve U.S. cross-border and cross-continental interests. Other non-regional countries, such as Britain and Russia, for instance, interpret it as a threat to their cross-border interests. Naturally, aggressive U.S. Middle East policies should be treated as a threat by all regional Muslim states. But this is not the case. How come? Why do some regional Arab states still welcome U.S. involvement in the region? Shouldn't these countries interact with powerful countries like Turkey and Iran to cooperate within a framework of a "regional dialogue forum" to thwart the games of the West and the U.S.?
Based on historical data and U.S. foreign policy blunders and crises under President Donald Trump, can we harbor hope that Trump will signal the end of a U.S. anti-Middle East grand security strategy?
The answers to these questions and similar ones lay in developments in contemporary history and the diplomatic culture of the regional states. However, the aim is to give a very brief chronological review of regional U.S. polices and, perhaps, to produce a road map to enable regional states to work together to prevent the continuation of U.S. regional polices.
more:
https://www.dailysabah.com/op-ed/2018/09/25/the-us-grand-security-strategy-for-middle-east-in-crisis