Source: The Guardian
Sister Kate is one of a team promoting testing and treatment that could save millions of lives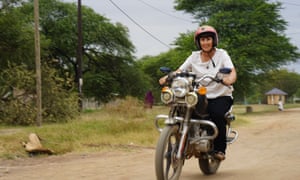 It is mid-afternoon and, in a field in rural Tanzania, a meeting about HIVservices has turned into an impromptu karate lesson. Families laugh as people take turns to practise with Sister Kate. This is not how most nuns do community outreach.
It's more than 30 years since Kate Costigan – a motorbike-riding, karate black belt – left her home in Tipperary, Ireland. At 19, she entered the Missionary Sisters of Our Lady of Apostles, travelling first to Nigeria and later Tanzania. "My father wanted me to join a local order, not [be] a missionary that was going far away," she remembers. Her family, not to mention her boyfriend at the time, were all a little surprised.
Today, Costigan is at the forefront of an HIV campaign that could be a template for other low-income countries. The programme – run jointly by pharmaceutical company Gilead Sciences and the Vatican – is promoting mass checks, with treatment then offered to anyone who tests positive, regardless of their clinical stage. The World Health Organisation believes this approach, offered alongside other prevention methods, could prevent 21 million deaths globally, even if there remain questions about how feasible mass testing is in countries where resources are scarce.
Suggested Reading