Source: The Guardian
Legislation stipulates only Jews have right of self-determination in the country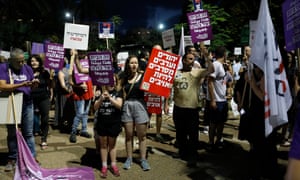 The European Union has led a chorus of criticism after Israel passed a controversial law declaring that only Jews have the right of self-determination in the country.
Adding that the legislation would complicate a two-state solution to the Israel-Palestinian conflict, the EU joined Israeli Arab political leaders, Israeli opposition politicians and liberal Jewish groups in the US in flagging up concern, with some saying the law amounted to "apartheid".
The legislation stipulates that "Israel is the historic homeland of the Jewish people and they have an exclusive right to national self-determination in it".
It also strips Arabic of its designation as an official language alongside Hebrew, downgrading it to a "special status" that enables its continued use within Israeli institutions.