COMPILED FROM WIRE SERVICES
JERUSALEM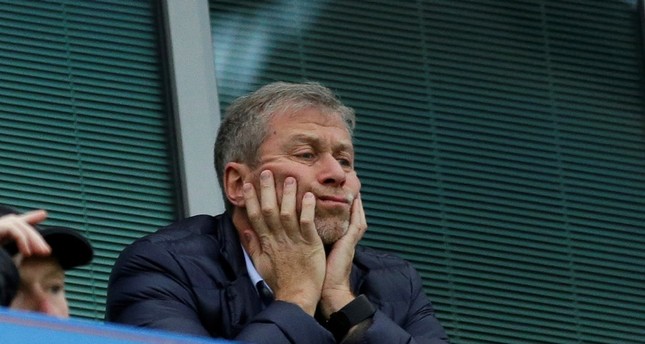 Chelsea soccer club owner Roman Abramovich sits in his box before the English Premier League soccer match between Chelsea and Sunderland at Stamford Bridge stadium in London. (AP Photo)
Russian Jewish billionaire and Chelsea football club owner Roman Abramovich received Israeli citizenship after having problems with getting his British visa renewed, local Channel 10 television reported.
"He landed today in his private aircraft at (Tel Aviv's) Ben Gurion airport and was presented with an Israeli identity card," the commercially-owned station said on its evening newscast.
An official at Nativ, a department of Prime Minister Benjamin Netanyahu's office dealing with Jewish communities in the ex-Soviet Union, said Abramovich had applied for an immigration visa at Israel's embassy in Moscow, the station said earlier on its website.
"His documents were examined under the 'Law of Return' and he was indeed entitled to immigrant status in Israel, and as a result he was issued an immigration visa," it added.
Spokesmen for Netanyahu's office contacted by AFP did not confirm or deny the report.
Israel's Law of Return gives every Jew, or child or grandchild of a Jew, the right to Israeli citizenship on demand.
According to media reports, Abramovich's British visa has run out and the application process for a new visa has been taking longer than usual.
Amid a spiraling diplomatic crisis between London and Moscow over the poisoning of a former Russian double agent, there have been calls in Britain for sanctions that would hurt super-rich Russians with homes in London.
Abramovich also appeared in a Swiss court near Bern on Wednesday regarding the repayment being claimed by the European Bank for Reconstruction and Development (EBRD). The institution is seeking 46 million Swiss francs (46 million dollars) plus interest. The case centres on a loan that the EBRD made to Russian bank SBS-Agro in 1997.
Since the Russian lender went bankrupt, the EBRD has tried to recover the money from Abramovich's Switzerland-based oil marketing company Runicom because of its loan guarantees for SBS-Agro. The case has been tied up in Russian and Swiss courts for years.
Abramovich formally has residency in Jersey in the Channel Islands, a tax haven, but has never taken it up.
The Sunday Times put his wealth at 9.3 billion pounds ($12.5 billion) on its Rich List this year. He has owned Chelsea since 2003.
source:
https://www.dailysabah.com/business/2018/05/28/chelsea-owner-abramovich-becomes-israeli-citizen-after-problems-with-uk-visa