Editorial Board

The Jakarta Post
Jakarta |

Tue, May 22, 2018

|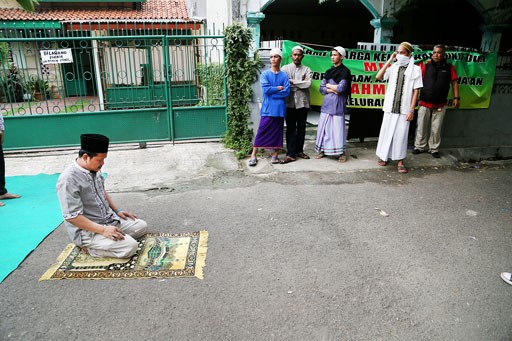 An Ahmadiyah follower says Friday prayers on the street in Bukit Duri Tanjakan, South Jakarta, on Friday, June 12, 2015, while several local people look on. Later the local people forced the Ahmadiyah practitioners to disperse from the area. (JP/P. J. Leo)
The weekend brought more sad news following the bombings in Surabaya. Members of the Ahmadiyah minority — half of them children — were sheltered at the East Lombok Police headquarters, West Nusa Tenggara, after their homes were ransacked by an unidentified mob. Only three adults from the seven families comprising 24 individuals taking shelter were men, as most were working during the attacks, which damaged eight homes and other property.
The spokesman of Jemaat Ahmadiyah Indonesia, a legal organization representing the Islamic minority since the 1950s, said some 1,000 adherents of the faith feel intimidated in the province.
In West Lombok, over 100 Ahmadis are residing elsewhere in temporary settlements after they were driven out of their homes in February 2006. Elsewhere, members of mainstream Islam have closed their mosques to Ahmadis or pressured the government and police to do so.
In the worst attack in Cikeusik, Banten, on Feb. 6, 2011, three Ahmadis were murdered; perpetrators only receiving three to six months' imprisonment. The Banten administration then issued a bylaw banning the Ahmadiyah from practicing their faith, following in the footsteps of West Java and a number of other provinces. The administrations cited the 1965 Blasphemy Law when placing restrictions on the Ahmadiyah.
The Constitutional Court has yet to announce its ruling on the law, in response to the judicial review request filed by a group of Ahmadis last year. It will be the third attempt to change or annul the law after a group of activists failed in 2009, and a group of Shiites failed in 2013, with the court urging that the law be revised with a better definition of blasphemy. Instead, the current deliberation of the Criminal Code includes a clause on blasphemy.
The right to freedom of worship has long been debated in Indonesia with the mainstream citing the limits to freedom in the Constitution, in that such freedom must not disrupt the freedom of others.
Urging an end to the violence, West Nusa Tenggara Governor Muhammad Zainul Majdi Said , also a popular religious leader, added, "Respect Ramadhan, respect the right of every person to live in peace according to their faith."
Police said the Ahmadis were not harmed and that the assaults reflected that the attackers' hatred "had reached its peak", Republika daily reported, as Ahmadis had pledged to "repent" and return to mainstream Islam but had not done so.
Another minority, the Shiite families of Madura, will also remain in their temporary homes in Sidoarjo regency, so as long as they continue to refuse to "repent".
Past and current national governments have let this problem of intolerance against minorities fester.
Many condemned the involvement of children in terrorism last week. But further acts of intolerance will continue as long as the government does not show what it takes to ensure human rights for all citizens.
source:
http://www.thejakartapost.com/academia/2018/05/22/displaced-for-different-beliefs.html