Source: The Guardian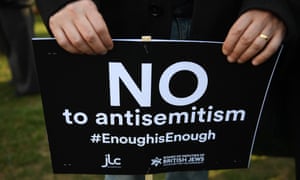 Feelings of insecurity are widespread among European Jews as a result of the resurgence of the extreme right, a heated anti-Zionist discourse on the left and radical Islam, according to a global study of antisemitism.
Last year the number of recorded violent antisemitic incidents fell by about 9% compared to 2016 – and by almost 50% compared with the 2006-14 average – but there was a notable increase in harassment and abuse, according to a survey published by the Kantor Center.
The report highlights a strengthening of the extreme right in some European counties, "accompanied by slogans and symbols reminiscent of the 1930s" and "the intensity of the anti-Jewish sentiments expressed in a variety of ways […] especially on street demonstrations". It says this may explain a discrepancy between the levels of fear among European Jews and the actual number of incidents.