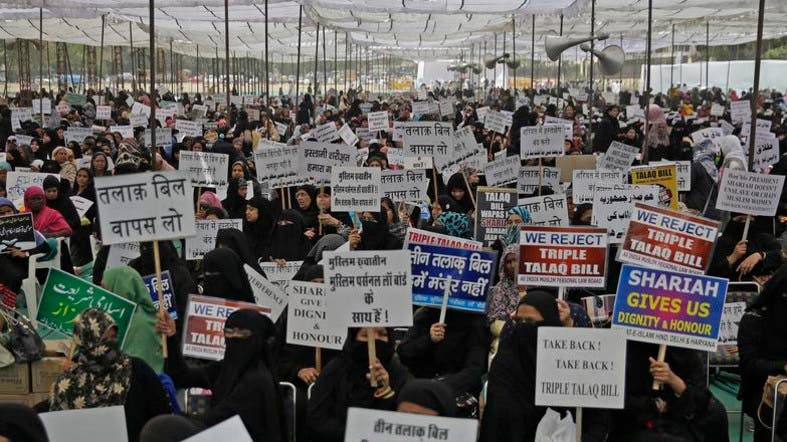 Muslim women participate in a protest against the draft law for banning "Triple Talaq" in New Delhi on April 4, 2018. (AP)
India's 172-million-odd Muslims are biting their nails as its highest court has started examining the legal validity of polygamy and other marital practices in the minority community.
The Supreme Court's recent decision to ask the federal government for declaring its stand on banning these customs for being violative of constitutional provisions, and refer the case to a constitution bench has raised many eyebrows and even sparked protests from several clerics, scholars and Muslim organizations.
Coming just seven months after the apex court banned instant verbal divorce or triple talaq (talaq-e-biddat), the move has stirred up a hornet's nest with Jamiat-Ulama-I-Hind and the All-India Muslim Personal Law Board (AIMPLB) raising a banner of revolt against the top court's decision to hear four petitions questioning the legality of polygamy as well as nikah halala, nikah mutah and nikah misyar which enjoy socio-religious sanction under the Muslim Personal Law (shariah).
Women's dignity
In nikah halala, a Muslim woman who wishes to restore her marriage after divorce is required to marry someone else and consummate the marriage before divorcing him to remarry her previous husband.
Nikah mutah is a temporary marriage contract in which the duration of the marriage and the mahr (money or possessions promised to be paid to the bride by the groom or his father at the time of marriage) must be specified and agreed upon in advance. It is a private contract made in verbal or written format and does not confer any right on the woman.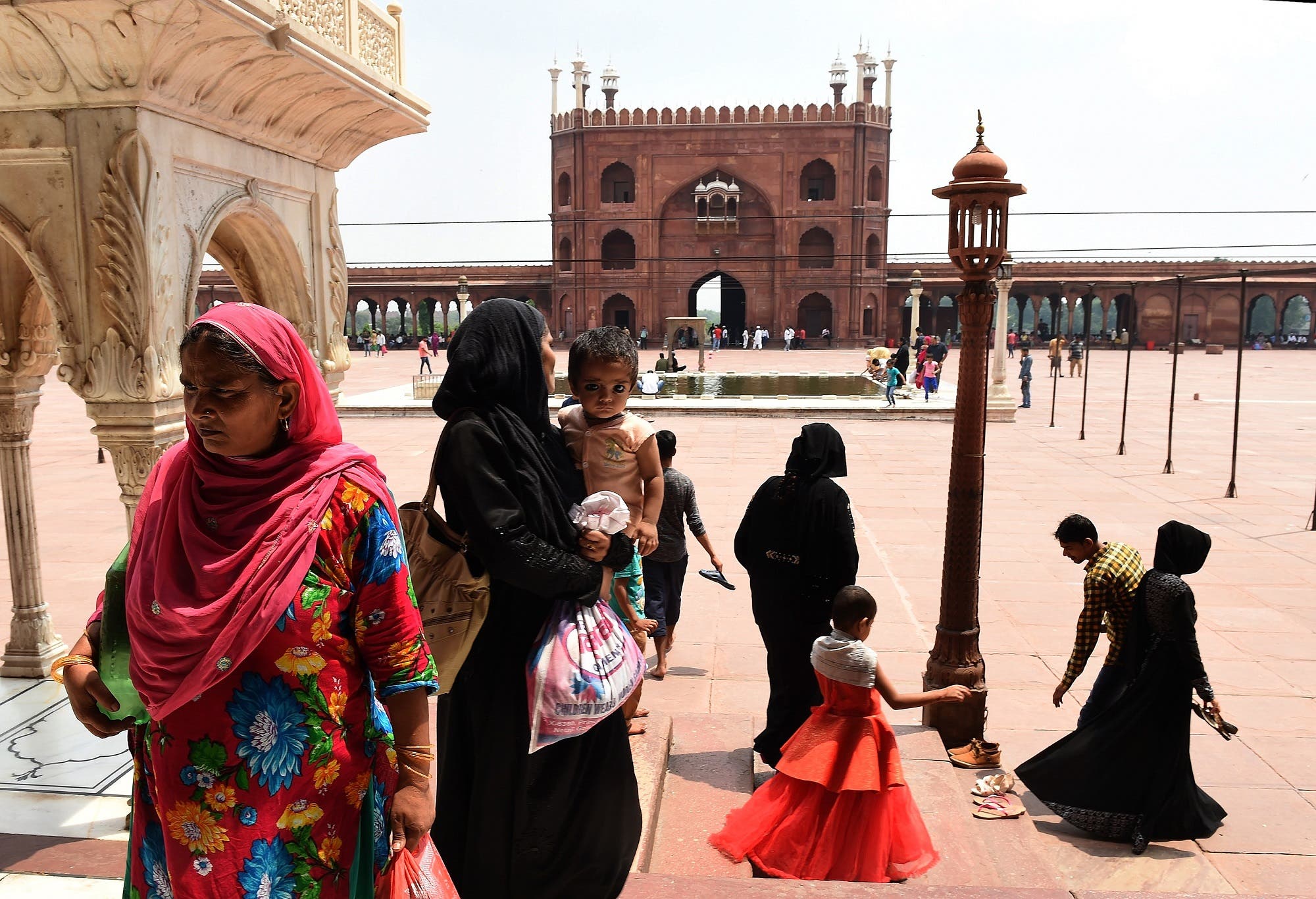 Indian Muslims visit the Jama Masjid mosque in New Delhi on August 22, 2017. (AFP)
Marital rights
The petitions against polygamy and other forms of marriage come amid Muslim women's constant protests against the Bill pending in Parliament to make triple talaq a crime with provision for three years' jail term for husband.
Failing clerics
While Firoze Mithiborwala, convener of the Indian Muslims for Secular Democracy, described nikah halala as the "most cruel of all the malpractices" inflicted on community women, Sabiha Yaseen, a women's activist in New Delhi, said rackets were run in the name of nikah halala.
However, several Muslim groups have dubbed Supreme Court's move as interference in the religious affairs of Muslims. Maulana Khalid Rashid Farangi, a member of the AIMPLB, said it was unfortunate that polygamy was being considered unlawful when live-in relationships were becoming a trend in India.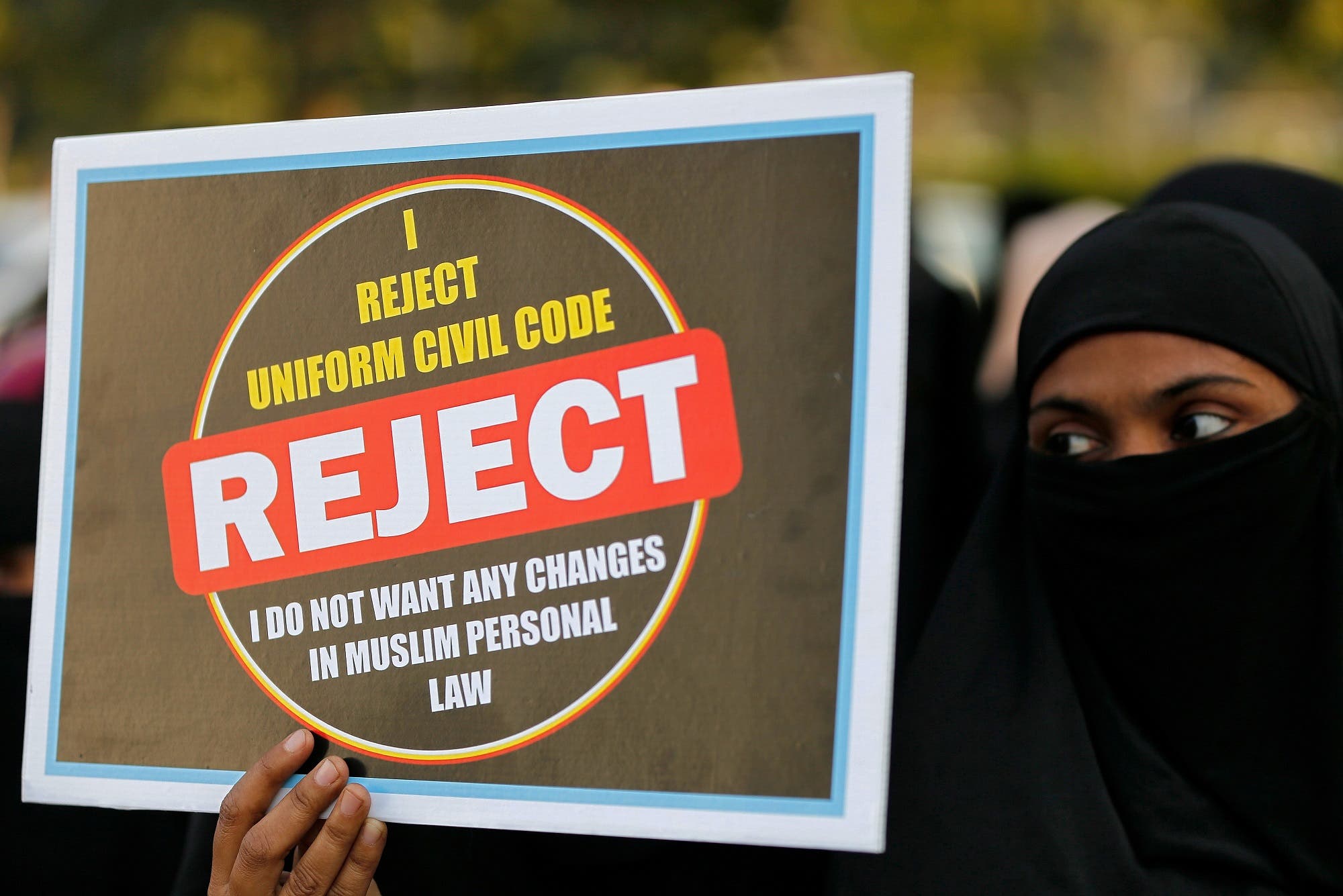 A Muslim woman displays a placard during a protest against "triple talaq" bill in Ahmedabad on January 7, 2018. (Reuters)
Islamic principles
Religious issues
Last Update: Wednesday, 11 April 2018 KSA 17:13 – GMT 14:13
SOURCE: