Source: The Guardian
Attendees hear disgraced cardinal asked for 'forgiveness for all I have offended in this life'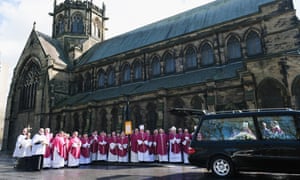 Cardinal Keith O'Brien, the disgraced former head of the Roman Catholic church in Scotland who died last month, asked in his will for forgiveness from those he offended.
Mourners at his funeral were told by Cardinal Vincent Nichols, archbishop of Westminster, who led the service, that O'Brien wrote in his last will and testament, "I ask for forgiveness for all I have offended in this life".
O'Brien died in hospital in Newcastle following a fall which caused a head injury and a broken collar bone. He received the last rites on his 80th birthday.