Source: The Guardian
BY  Jessica Elgot Political correspondent
Two main Jewish organisations accept Labour leader's offer of 'without preconditions' meeting.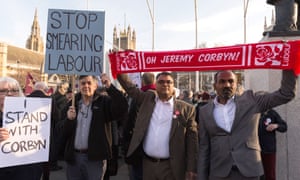 Jeremy Corbyn and Britain's two largest Jewish organisations have agreed to address antisemitism in the Labour party, which Corbyn said would happened "without preconditions".
In a letter to the Board of Deputies of British Jews (BoD) and the Jewish Leadership Council (JLC), the Labour leader said he accepted "my responsibility to give a strong and continuing personal lead".
Writing to the JLC chair, Jonathan Goldstein, and BoD president, Jonathan Arkush, Corbyn said he accepted the organisations' agenda for a meeting. "I place no limitations on the points you would wish to raise and am happy for the agenda to cover the issues you've already outlined," he wrote.
"I appreciate and understand the anger you express and reiterate my determination to fight antisemitism within the Labour party and society at large … I recommit to doing all I can to address the anguish and distress caused to many people in the Jewish community.