COMPILED FROM WIRE SERVICES
ISTANBUL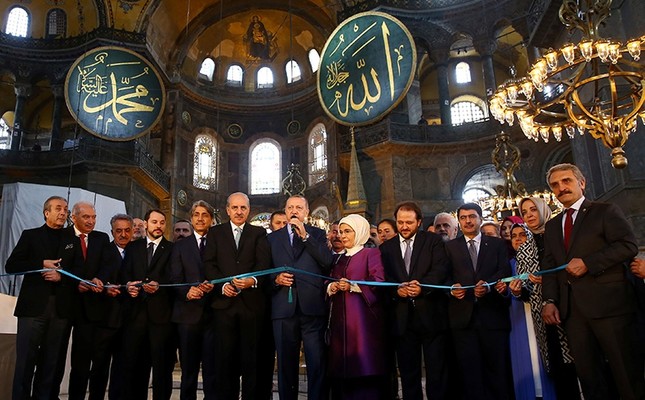 President Recep Tayyip Erdoğan attends opening ceremony of Yeditepe Biennial at the Byzantine-era monument of Hagia Sophia, known as Ayasofya which is now a museum, in Istanbul, Turkey March 31, 2018. (Photo: Kayhan Özer/ Presidential Photo Service)
President Recep Tayyip Erdoğan opened a classical Turkish arts event in Istanbul on Saturday.
Speaking at the opening ceremony in the historic Hagia Sophia museum, Erdoğan said the Yeditepe Biennial is the first of its kind.
He said he believes that Yeditepe Biennial will play a very important role in promoting Turkish art, adding that there are nearly 3,000 works of art by 600 artists on display.
"I am also very happy to see that Yeditepe Biennial corrects a mistake which is made frequently in events like these," Erdoğan said.
He said galleries and biennials are generally held indoors and this prevents them from reaching out to the masses. The biennial will be held in the historic peninsula of Fatih, with artworks displayed both indoors and outdoors.
Erdoğan said it was "difficult and emotional" to be speaking at the Hagia Sophia, which he described as a "magnificent and holy."
During the ceremony, Erdoğan called on guests to join him in silently reciting the first verse of the Quran, dedicating the prayer to the "souls of all who left us this work as inheritance, especially Istanbul's conqueror," referring to Ottoman Sultan Mehmed II "The Conqueror" who captured the city in 1453 and ended the existence of Eastern Roman Empire, also known as the Byzantine Empire, that lasted for more than 1,000 years.
Prior to Erdoğan's speech, the Quran was also recited.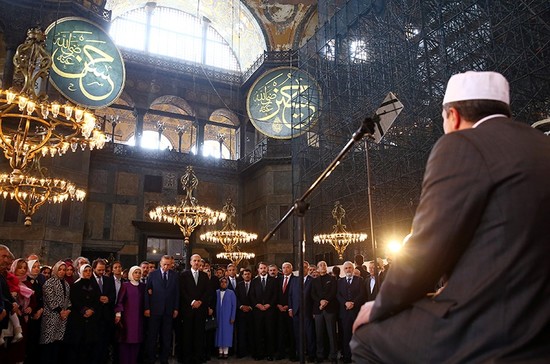 The Hagia Sophia was built during the 6th century Christian Byzantine Empire and served as the seat of the Greek Orthodox Church. It was converted into an imperial mosque with the Ottoman conquest of Istanbul in 1453.
The historic Istanbul landmark has become a symbol of interfaith and diplomatic tensions between Turkey and Greece.
The structure was converted into a museum during the strictly secular single-party rule in 1935, but there have been discussions by about converting it back into a mosque, with conservatives demanding that it be restored as a place of worship.
In 2015, a cleric recited from the Quran inside the building, a UNESCO World Heritage site, for the first time in 85 years. The following year, Turkey's religious authority began hosting and broadcasting religious readings during the holy month of Ramadan and the call to prayer was recited to mark the first revelation of the Quran to Prophet Mohammed.
Yeditepe Biennial will be held from March 31- May 15, 2018 in İstanbul.
The biennial is being held under the auspices of the Presidency of Turkey, in cooperation with the Fatih Municipality and Classical Turkish Arts Foundation and the support of key institutions of Turkey.
Yeditepe Biennial is the first biennial in the world in the field of classical Turkish arts and will take place in Istanbul for 45 days.
SOURCE:   https://www.dailysabah.com/events/2018/03/31/erdogan-launches-first-classical-turkish-arts-biennial-in-istanbuls-hagia-sophia