One of the world's richest men opens up about his confinement by the Saudi government.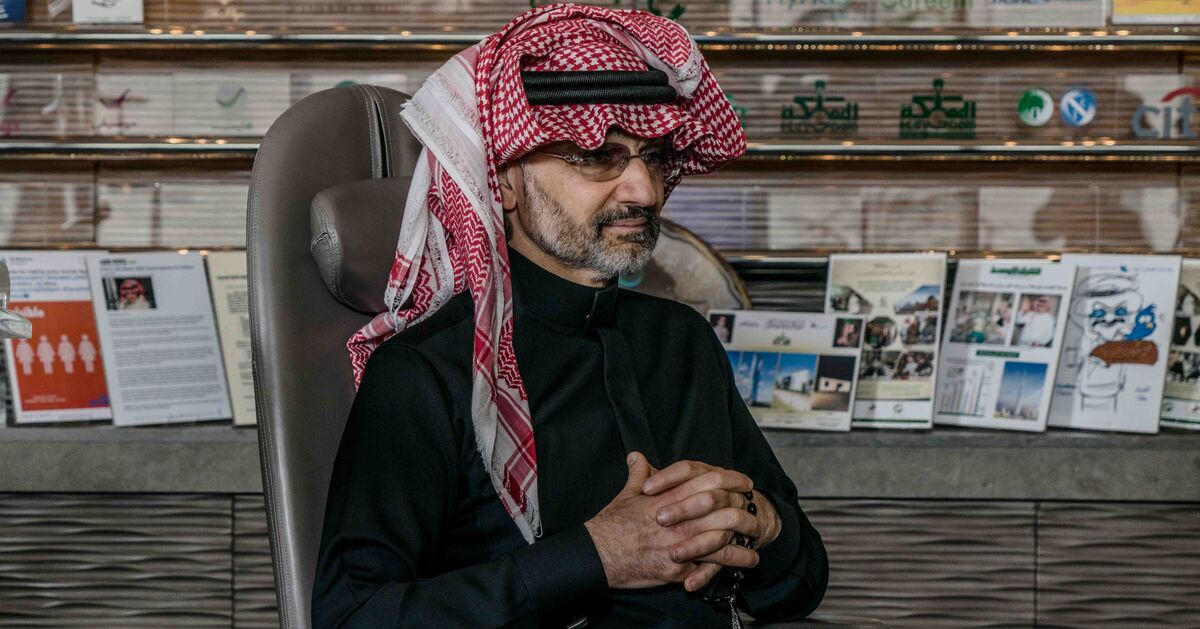 Prince Alwaleed bin Talal has taken a few knocks en route to becoming the richest investor in the Middle East and one of Saudi Arabia's most recognizable faces. In the 1980s, he went broke. In 2008, during the financial crisis, he lost billions of dollars on Citigroup Inc. But nothing compares with the humiliation he sustained over the past few months. Last November, Alwaleed's uncle, King Salman, and his cousin, Crown Prince Mohammed bin Salman, engineered a government roundup of alleged fraudsters, embezzlers, and money launderers that landed Alwaleed in Riyadh's now-infamous Ritz-Carlton hotel. He didn't leave for 83 days.
I saw Alwaleed in late October, the week before he became a prisoner of the state. We spent an evening at his desert camp chatting about the financial markets and U.S. politics, watching a soccer match on TV, taking a walk through the sands, and eating a late dinner in the cool midnight air. Seven weeks after his release, in mid-March, I returned to the kingdom. Alwaleed had decided to break his silence and grant me an interview on Bloomberg Television.
We met informally the day before the interview at his palace in Riyadh. As I waited in the foyer, the prince descended the grand staircase from the second floor. He was dressed casually in a beige thobe, brown wool sports jacket, and sandals, and he struck me as relaxed. Over the next two hours, between sips of Arabic coffee and ginger tea, while his five granddaughters sang and danced to Katy Perry's Hot n Cold in the palace gym, he recounted his ordeal.
In the early hours of Nov. 4, Alwaleed, at his desert camp for the weekend, received a phone call summoning him to the royal court. He left at once, without any inkling he was walking into a trap. Soon government officials were leaking the sensational details of an anticorruption purge, with news reports pinpointing Alwaleed as the most prominent among hundreds of tycoons, government ministers, and other princes who were being detained at the Ritz-Carlton. Shares of his main company, Kingdom Holding Co., plummeted 21 percent in three days.
Alwaleed was quite the prize for a government eager to show its people that no Saudi was exempt from an ongoing crackdown on freeloading and graft: His fortune of $17.1 billion places him 65th on the Bloomberg Billionaires Index. And his international profile—forged through friendships and business partnerships with the likes of Bill Gates and Rupert Murdoch—rivals that of Prince Mohammed. Kingdom Holding's portfolio includes Four Seasons Hotels & Resorts, Citigroup, Euro Disney, and Twitter. Rotana Group, which he controls separately, is the Arab world's largest entertainment company.
The government offered detainees a stark choice: pay up, sign an admission of guilt, and walk free—or refuse and languish. According to a Wall Street Journal report, the price for Alwaleed's release was $6 billion. Negotiations were held in secret, and the government never disclosed any charges or produced any evidence. Critics said that due process was being denied and accused Prince Mohammed of conducting an intimidation campaign or simply a shakedown under the guise of fighting corruption.
Rumors of mistreatment and even torture at the Ritz-Carlton began to swirl, finding their way into reports by the Daily Mail Online and regional news media. So when the prince, still at the hotel, surfaced in a smartphone video in late January, after more than 2½ months of confinement, appearing underfed and haggard, the speculation only intensified. He said he was being treated decently. No one believed it. (Others may not have fared as well. More recently the New York Times reported, citing anonymous sources, that some detainees were physically abused and otherwise coerced into confessions, and that one military officer in custody died bearing signs of a brutal beating.)
Since his release, hours after the video was shot, Alwaleed has regained some weight, and he seems as energetic, intense, and engaged as ever. But in conversation it's clear he's struggling mightily with the experience. Even if he's innocent—and he insists he is—the government lumped him in with a group it cast largely as a bunch of crooks. And to complain about that or otherwise fall out of line is to invite a wrath he's witnessed all too closely.
We recorded the interview on a makeshift set in Alwaleed's apartment on the 67th floor of Riyadh's Kingdom Tower. Walking in, I wondered how candid he could be. Would he be forthcoming about life inside the Ritz-Carlton? If he'd been harmed, would he admit it? Had he been forced to accept a devil's bargain to win his release? Would he be credible? What if the government had threatened him? Would I be able to tell?
The following is an excerpted version of our conversation, lightly edited for clarity.
Starting with the obvious: Why
Alwaleed's detention was more mysterious than most. Of all the princes who were brought in, he alone hadn't served in the Saudi government, where kickbacks are considered common. And unlike other businessmen, he wasn't a government contractor and so couldn't have overbilled the state. He made most of his wealth transparently, in real estate and as an investor in public markets.
Erik Schatzker: Why were you arrested in the first place?
Prince Alwaleed: Well, I would not use the word "arrested," because we were invited to the king's house and then asked to go to the Ritz-Carlton. So it was done with honor and dignity, and our prestige was maintained. Not only me; everybody else.
So the word "arrest" is fair to use for those who did commit a crime, admit their guilt?
Exactly. And reached a settlement with the government. But in my case, you know, it's very much different.
So were there never any charges? Were you ever accused of anything?
There were no charges. Because I have a fiduciary responsibility to my shareholders in Kingdom Holding, to my friends in Saudi Arabia, and to the world community, because we have international investments all over the place, it's very important to say that there was zero accusation and zero guilt.
You've described the whole ordeal as a misunderstanding. A misunderstanding over what?
When I say misunderstanding, it's because I believe I shouldn't have been there. Now that I've left, I would say that I've been vindicated. Yet I have to acknowledge to you, for the first time, that yes, we do have with the government a confirmed understanding, going forward.
What does that mean?
It is very confidential. I cannot get into that. But there is a confirmed understanding between the kingdom of Saudi Arabia and me personally.
Does that require you to do certain things?
Not necessarily. I cannot get into that, because it is confidential and secret between me and the government. But rest assured that this does not really handcuff me.
What did the government want from you?
I will not get into the discussions that took place between me and representatives of the government.
They must have wanted something.
I read what was written, that they wanted a chunk of A or B or C of what I have. This was all rumors.
According to one report, it was $6 billion.
I read $6 billion, I read more than that and less than that.
Did it cost you anything to leave? Did you have to pay the government any money, did you have to hand over any land, did you have to surrender any shares?
When I say it's a confidential and secret agreement, an arrangement based on a confirmed understanding between me and the government of Saudi Arabia, you have to respect that.
I'm a Saudi citizen. But I'm also a member of the royal family. The king is my uncle. Mohammed bin Salman is my cousin. So my interest is in maintaining the relationship between us and keeping it unscratched.
MORE:   https://www.bloomberg.com/news/features/2018-03-20/alwaleed-reveals-secret-deal-struck-to-exit-ritz-after-83-days