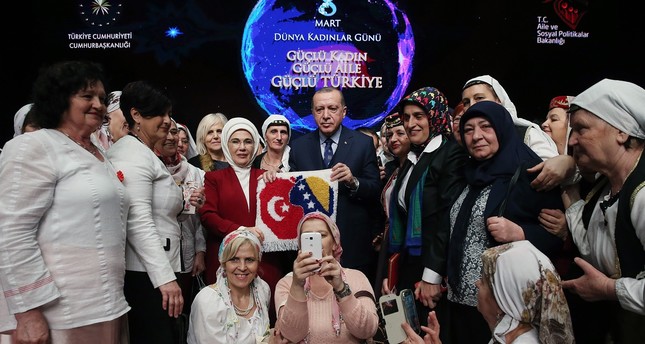 First Lady and President Erdoğan poses with women on the sidelines of the event held at the Presidential Complex.
'Islam is updated over time, you can't impose old rules to modern times,' President Erdoğan said on International Women's Day as he criticized controversial remarks from theologians tying misogyny to Islam
A large group of women from all backgrounds were welcomed yesterday by President Recep Tayyip Erdoğan at the Presidential Palace, Ankara, as part of the International Women's Day program in which the president thanked women for their central role in society. Erdoğan also underlined that Islam's rules for daily life and human relationships are updated over time, criticizing recent msogynistic remarks by some bigoted clerics.
On International Women's Day, President Recep Tayyip Erdoğan hosted women from all walks of life at the Presidential Complex. As he heaped praise on women's role in society, the president also slammed "some clerics" justifying violence against women and defending other forms of misogyny with reference to Islam.
"Recently, some people claiming to be clerics issued statements contradicting the religion. It is hard to understand. They have no place in our times. They don't know Islam needed an update and is accordingly updated. You can't apply the practices applied 15 centuries ago today. Islam changes and adopts to the conditions of different ages. This is the beauty of Islam," Erdoğan said.
more:   https://www.dailysabah.com/
https://www.dailysabah.com/turkey/2018/03/09/erdogan-slams-bigoted-clerics-degrading-women