Source: The Guardian
Michael Safi in Colombo and Amantha Perera
Reports of attack on Buddhist temple sparks anti-Muslim riots in Kandy district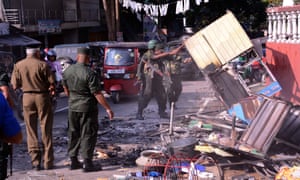 At least two people have been killed and eight others injured in anti-Muslim riots in a popular tourist district in central Sri Lanka as the government blocked Facebook and other social media services in an effort to quell the violence.
Reports of an attack on a Buddhist temple in Abathanna triggered another day of clashes across Kandy district between members of the country's mostly Buddhist Sinhala majority and police.
One man died from a heart attack after his shop was attacked and another person is thought to have been killed while trying to attack a mosque, according to police in Katugastota town and sources at the prime minister's office said.