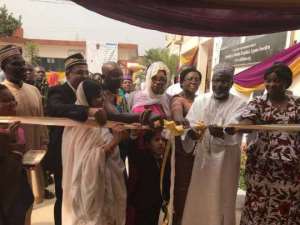 Dr Khan Rafi A. Sahibzada, the Medical Director of Agona Swedru Ahmadiyya Muslim Mission Hospital, and his mother, Madam Naz Muhammad Zai, an Advocate of the Supreme Court of Pakistan, have built a modern Maternity Ward to improve maternal and infant health at Agona Swedru in the Central Region.
The GH¢350,000 facility, located at the Agona Swedru Ahmadiyya Muslim Mission Hospital, replaces a 46-year old block.
Speaking at the commissioning of the Ward, Dr Khan said the project was conceived when his mother, Madam Muhammad Zai, who was also a member of the Intentional Court of Justice, visited him in Ghana and saw some pregnant women sleeping on broken beds at the Maternity Ward and thus decided to assist in making life better for them.
The 21-bed modern facility was jointly commissioned by Alhaji Maulvi Noor Mohammed Bin Salih, Ameer and Missionary in charge of Ahmadiyya Muslim Mission in Ghana, and Mrs Cynthia Morrison, the Member of Parliament (MP) for Agona West.
Dr Khan, who has been in Ghana for five years, said the facility was a New-Year gift to Ghanaians in appreciation of the hospitality and respect he had received during his stewardship and to save pregnant women from the stress of using the outdated facility.
He said the hospital's management had put in place excellent measures such as staff motivation packages, training programmes and other benefits towards assisting in the delivery of the quality health care.
Dr Khan commended the Central Regional Directors of Ghana Health Service for their immense contributions and support towards to the running of the hospital to render services to the people Agona Swedru and its environs.
Ameer Salih for his part, said the effort of the Ahmadiyya Mission was to supplement the efforts of the Government to provide good health care in the country.
The Ameer said the Mission would continue to support the provision of quality health care and adequate structures for education throughout the country.
Mrs Cynthia Morrison commended Dr Khan and Madam Muhammad Zai for their generosity and love for humankind.
She said: 'Dr Khan was an expatriate posted in by the Ahmadiyya Muslim Mission but he had been able to raise huge sums of money to construct a new maternity ward to facilitate health delivery and this is highly commendable'.
Mrs Morrison assured the Management and staff of the Hospital that she would contribute her quota to ensure that patients received the best of care at the facility.
GNA
SOURCE:   https://www.modernghana.com/news/835442/ahmadiyya-missionary-doctor-mum-build-maternity-ward-for-sw.html