DAILY SABAH WITH ANADOLU AGENCY
ISTANBUL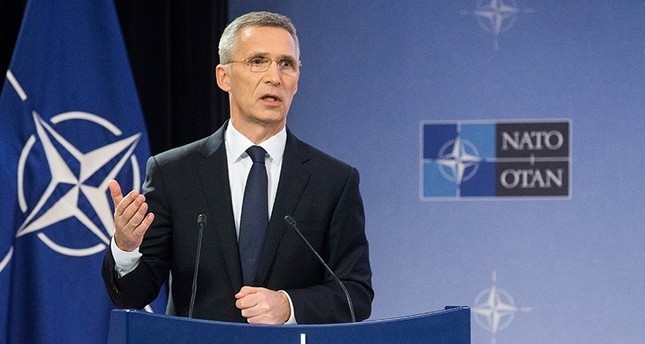 NATO Secretary-General Stoltenberg
NATO's Secretary-General Jens Stoltenberg said late Tuesday that the organization wasn't consulted before the U.S. announced its plans to form an army, composed mostly of the Syrian Democratic Forces (SDF).
The SDF is predominantly led by the PKK terrorist organization's Syria affiliate Democratic Union Party's (PYD) armed People's Protection Units (YPG).
"We understand Turkey's concerns regarding the matter," Stoltenberg told President Recep Tayyip Erdoğan in a phone call Tuesday.
Stressing that Turkey — a 65-year member of the alliance — is an important country for NATO, Stoltenberg said that NATO was not consulted on the matter of creating this so-called army.
Meanwhile Erdoğan told Stoltenberg that a so-called army led by the SDF was "completely unacceptable."
"Such a move will not serve the stability of the region," Erdoğan said, adding that Turkey will take all necessary measures to protect its national security in the face of recent developments in Syria.
The phone conversation followed a recent U.S. decision to form a border protection army in Syria with the terrorist YPG/PYD.
Earlier on Tuesday, Erdoğan called on NATO to fulfill its responsibilities.
"NATO! You are obliged to take a stand against those who harass the borders of one of your partners," he said.
On Saturday, Turkish security forces hit several YPG/PYD targets in Afrin to prevent a "terror corridor" from forming along Turkey's borders.
An Afrin operation would follow Turkey's successful seven-month Operation Euphrates Shield, which ended in March 2017.
The U.S.-led Syria coalition issued a statement on Sunday saying that it was working with the SDF to set up and train a Syrian border protection force.
Turkey has long protested the U.S.' support for the YPG, while Washington has brushed off Turkey's concerns, calling the SDF a "reliable ally" in its fight against Daesh in Syria.
Listed as a terrorist organization by Turkey, the U.S. and the EU, the PKK has waged a terror campaign against Turkey for more than 30 years
source:   https://www.dailysabah.com/diplomacy/2018/01/16/nato-says-wasnt-consulted-before-announcement-of-ypg-army-understands-turkeys-concerns